Drake Reportedly Just Dropped the Most Lavish Gift Yet on Jennifer Lopez
Hotline bling.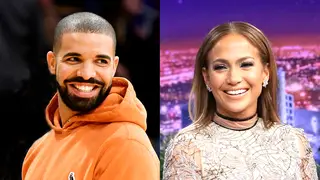 Besides his Toronto-inspired 6 God moniker, Drake's Views album title makes a lot of sense after the newfound apple of his eye has rumored to be Jennifer Lopez for the past few months.
Now, his recent sights are set on an extravagant $100,000 necklace that's reportedly hooked around J.Lo's neck.
While the rest of us were waiting for the ball-drop on New Year's Eve, Drizzy dropped the luxury Tiffany Victoria diamond and platinum necklace on the Latina songstress last week as a present for the new year, E! News reported. Consequently, Jenny From the Block must have been in admiration of the gift, as the site also speculated that she donned the sparkly chain in one of her New Year's photos posted to Instagram.
Should there be any truth to the developing DraLo romance, she should probably get used to being showered with such grand gestures, considering that Drake has a ting for pampering his closest friends. Take, for instance, the literal life-sized Billboard that he presented to Rihanna "because he's extra" or even the clean Ferrari whip he bequeathed 21 Savage with for his 24th birthday.
We know who to put first on the Secret Santa list for Christmas this year.
See J.Lo's reported gift from the 6 God below.