Judge Upholds Firing Of Police Officer Who Shot Breonna Taylor
Miles Cosgrove has been fighting for his job back.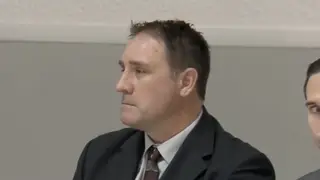 Former Louisville Metro Police officer Myles Cosgrove will remain terminated, according to a Jefferson County Circuit Court.
According to WDRB, Judge Melissa Bellows agreed with Cosgrove's termination, which was upheld by the Louisville Police Merit Board in December 2021 with a 5-2 vote. Bellows ruled the board had "substantial evidence" to fire Cosgrove and said in a statement, "Even normal citizens must exercise the 'highest degree of care' in ascertaining whether they are shooting at a legitimate target. Cosgrove seems to be arguing that he should be held to a less stringent standard than an ordinary Kentucky resident, despite having considerably more legal privileges. A normal citizen who violated these principles could be subject to criminal liability."
Taylor and her boyfriend Kenneth Walker were in bed when they were startled by a banging on her apartment door around midnight on March 13, 2020. Police, holding a drug warrant, used a battering ram to break down the door. Taylor was killed when Mattingly and two other officers opened fire. Cosgrove reportedly fired 16 shots into Taylor's apartment.
Last year, the U.S. Justice Department prosecutors charged three Louisville cops of conspiring to falsify the Taylor warrant earlier this year. Kelly Goodlett, one of the former officers, pleaded guilty and admitted to aiding in fabricating a false connection between Taylor and a wanted drug dealer. Two other former officers involved in the warrant, Joshua Jaynes and Kyle Meany, are scheduled to go on trial in federal court this year.