'You're Disgusting': Twitter Scorches Wendy Williams For Shaming Terry Crews Over Sexual Assault Confession
The actor recently opened up about being violated by a Hollywood agent.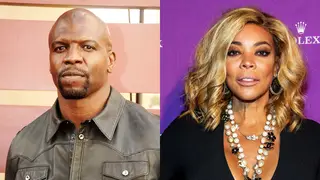 Terry Crews made a brave confession earlier this week when he appeared on Good Morning America to exclusively speak on being sexually assaulted by Hollywood agent Adam Venit.
Since the interview made its rounds, social media has rallied around the actor, commending him for his transparency and bravery. One person who seemed to have found Crews' openness unnecessary was Wendy Williams, who took to her morning talk show to claim his career will suffer following his admission.
While the TV host is known for being in other celebrities' business, take a look at her addressing her own life as a hot topic with BET Breaks, above.
After showing a clip of the Brooklyn Nine-Nine star's interview where he opened up about Venit sexually violating him and giggling afterwards, Wendy told her "co-hosts" that she didn't find it brave that he spoke out and went on to add that his candor may cost him his career.
"It's not brave — he's just talking," she said. "But it may have a really negative effect on his career. Do you know what I mean? Being all Black, and being all chatty. And this guy, the agent — he named names. Terry is going in. It will, in my opinion, affect his career."
Take a look at the segment, below:
Twitter had an extremely emotional response to her insensitive words, with some even calling her "disgusting" and "trash" for her decision to criticize the actor for speaking out. 

Take a look at what people had to say, below: