AAFCA to Celebrate 25th Anniversary of Boyz 'n the Hood and New Jack City
African-American Film Critics Association looks back on hip hop cinema.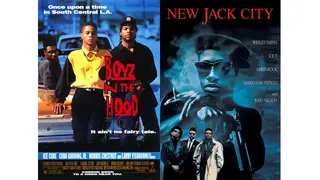 Hip hop and Hollywood came together in a huge way with the release of Straight Outta Compton, which debuted to record-breaking numbers last week, but this isn't the first time rappers have lit up the big screen. Boyz 'n the Hood and New Jack City did it 25 years ago, and the African-American Film Critics Association will celebrate the seminal films at its annual awards ceremony February 10 in Hollywood. The theme of the event will be "A Celebration of Hip Hop Cinema."
"Hip hop has had a global impact on pop culture and influenced millions around the world," AAFCA president and co-founder Gil Robertson said, "and its impact on Hollywood has been a major game-changer in front of and behind the camera and at the box office." 
Boyz director John Singleton, who gave Compton executive producer and rap icon Ice Cube his first-ever role in film, will receive a 2016 AAFCA Special Achievement Award. Producer Jeff Clanagan, movie critic Mahnola Dargis and NBA All-star/producer/actor LeBron James will also be recognized.

Boyz 'n the Hood stars Cuba Gooding Jr. as a young man who moves to South Central Los Angeles to live with his father and battles with peer pressure from his friends, played by Cube and Morris Chestnut, who lead the opposite lives of a drug dealer and a college football recruit. New Jack City features Ice T as an undercover cop who infiltrates a drug ring run by Nino Brown, played memorably by Wesley Snipes.
Established in 2003, the African-American Film Critics Association is the largest Black film critics' organization in the world, representing television, radio, print and online critics.
Watch Singleton talk about his early years in Hollywood in our exclusive interview, below:
BET.com is your No. 1 source for Black celebrity news, photos, exclusive videos and all the latest in the world of hip hop and R&B music. 
Click here to enter the #LookYourSundayBest contest for a chance to win FREE natural hair-care products.

(Photos from left: Columbia Pictures Corporation, Warner Bros. / The Jackson/McHenry Company / Jacmac Films)