Does Artificial Intelligence Make You Nervous? Here Are 5 Ways Black People Can Benefit From AI
Whether it's the use of robots, self-driving cars, or smartphones, AI is a part of our everyday lives.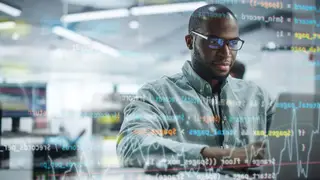 If NFTs (non-fungible tokens) were hot two years ago, 2023 is shaping up to be the year of artificial intelligence. Whether it's the use of robots, self-driving cars, smartphones, and so much more,  AI is quickly becoming a part of our everyday lives and will continue to influence our society.
According to Merriam-Webster, artificial intelligence is "a branch of computer science dealing with the simulation of intelligent behavior in computers: the capability of a machine to imitate intelligent human behavior." In other words, AI is a simulation of human intelligence into machines to perform tasks.
Whether you're aware or not, the technology is here to stay. In a study conducted by Statista, the global AI market is set to grow up to 54 percent every single year.
The advent of AI has changed the modus operandi of numerous sectors including education, finance, music, politics, and many more.

There have been numerous reports of AI algorithms returning with racially biased results. But tech expert believe that for African Americans, the rise of AI also offers a significant potential for positive change, while also posing unique challenges that must be confronted.
To bring you up to speed on the AI phenomenon, two leaders in the field, Alicia Brown, a Cybersecurity expert and founder of TMG Consulting, which specializes in cybersecurity, cloud computing and operations; and Mike Muse, a NextGen Tech Policy Fellow at Google and a media entrepreneur spoke with BET.com and came up with a list of things Black people should know about the emerging field.
1. New Jobs and Career Opportunities
One of the greatest concerns of the growing usage of AI is its impact on the marketplace. Many have already conceded that A.I. will remove job seekers from the marketplace. The experts suggest that with AI, Black people should seize the opportunity to gain new skills to expand their reach in the job market as the technology continues to transform the world. Brown asserts that AI can help remedy discriminatory practices that have long hindered us in the marketplace.
"AI can contribute to alleviating systemic bias in areas such as hiring practices. AI-driven talent acquisition tools can be programmed to disregard race, gender, or other identity markers, focusing solely on candidates' qualifications," Brown said. "Such objectivity in screening processes can help combat employment discrimination, providing more fair and equitable opportunities for people of color."
Muse noted that AI can also assist budding Black entrepreneurs expand their reach as they develop their business ideas.
"Black and Brown entrepreneurs are historically underfunded if they can even find funding for their startups," Muse explained  "They may not have the resources that are needed to hire large numbers of staff or human capital. So if they can use AI as a tool to keep some of those resources that they might have allocated rather than hiring a marketer or a consulting firm from marketing.  AI tools can be a cost-saving measure for small business owners that are under-resourced to help grow their businesses."
2. Advances In Healthcare
In healthcare, AI is helping improve the quality of life for patients. The technology has improved diagnostic speed and accuracy by using AI algorithms to process large amounts of data at rapid speeds. AI algorithms can also give a deeper analysis of medical images, such as X-rays and MRI scans, to identify inconsistencies that can be overlooked by the human eye. This improvement can lead "to earlier and more accurate diagnoses, resulting in better patient outcomes."
AI can be utilized in various ways in the healthcare sector. AI-powered diagnostic tools can help in detecting diseases at an early stage, and telemedicine can provide consultations remotely," Brown explained. "Given that the Black community suffers disproportionately from certain health conditions including access to healthcare, these AI-based technologies could potentially reduce health disparities and provide healthcare advice and guidance to those lacking healthcare resources."
"If you look at the case where the individual was paralyzed for 10 years, AI technology was able to help the individual regain mobility by translating data to his neurological
system that created a bridge to bypass what was damaged in the spinal region. The technology used the frequency from his brain to communicate to his legs based upon how the individual was thinking about it.," Muse recalled. "So AI in healthcare can help pinpoint particular medical needs of patients with very specific targeting in healthcare." and how to strategically target treatments versus using medicine to do a catch-all."
3. Criminal Justice Reform
AI has been a major factor in the criminal justice system. Law enforcement officials are increasingly using AI and automated decision-making (ADM) systems to "predict the actions by assessing the probability of crimes" being committed in Black communities, which is another tool of racial profiling. Brown shared that AI can reveal the inequities in policing and the criminal justice system as a whole.
"AI can be used to help identify and counteract bias in the criminal justice system, where the Black community often faces disparate impacts. For instance, AI can analyze patterns in sentencing and arrest data to identify potential racial biases. However, care must be taken to ensure that the AI systems themselves don't perpetuate biases present in the data they are trained on," Brown said.
"AI technology can present a holistic viewpoint of individuals in question to create better outcomes," Muse added. "Instead of judges automatically sending individuals to jail or prison without looking at how an individual got into the position where they committed a crime, they can provide alternative sentences such as job readiness programs to promote criminal justice reform."
4. Increase In Efficiency and Productivity
As the saying goes, we should aim to "work smarter, not harder." With AI technology, mundane tasks that was once time-consuming can now be completed at a rapid pace. According to Brown and Muse, AI can foster dramatic increases in efficiency and productivity in our personal and professional lives.
"AI can automate repetitive tasks, thus freeing up time for individuals and businesses to focus on more complex tasks," Brown added. "This significantly boosts productivity and efficiency. Often, in the Black community, time is a barrier as we are forced to take on multiple responsibilities. AI tools such as ChatGPT can learn patterns and generate coherent responses to a wide range of topics, from general knowledge to more specific subjects. AI tools are powered by the internet which means they do the research for you and save hours. The key to establishing proper productivity is through identifying the right AI tools for our needs."
"Technology is always inventing itself," Muse said.  "If you think about transportation, there was the horse and buggy system, the train system, then people started moving into cars and airplanes. So we've always had variations where our current existence and our way of life was changed. The question is how do we adapt? We must retrain and retool how we think and the workforce, especially Black workers, to be able to be employed and thrive in this new era of technology which can foster efficiency and productivity."
While AI is revolutionizing our way of life, we have the power to define technology on our own terms by how we consume it. The essential component is to remember that we must control technology and not allow technology to control us.
Muse argues that safety measures must be in place to ensure that AI technology will be beneficial to society and not detrimental.
"As a policy fellow, we focus on policies associated with artificial intelligence, machine learning, and big data, to ensure that guardrails are in place to allow innovation to move forward. Also to put guard rails on to make sure that this technology doesn't harm humanity to advance and amplify the discourse in society to make sure that the American public is aware that AI can be used for good," Muse said. "We have to caution the public because if those guard rails aren't in place, AI could go wrong, and how then we have to course correct."
Brown also spoke about how mechanisms are critical in helping to guide the technology for its best usage.
"We cannot allow AI to determine what perfection is because some of the best inventions came because of human error," Brown argued. "The microwave oven was invented by Percy Spencer in error during testing of a military-grade magnetron. Chocolate chip cookies, Penicillin, are things created in error. So we must define how the technology will work best in our lives and in society."