Robin Thede Releases Full Mockumentary Based On Spoof 'The Hairmaid's Tale' And It's More Hilarious Than The Original
#BlessedBeTheBabyHair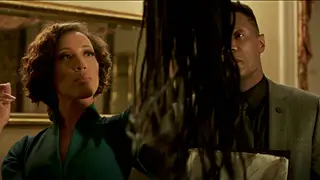 In an episode of The Rundown With Robin Thede, the host released a sketch in which the main character lived in a world where Black women were protected against micro-aggressions. In the hilarious sketch, we see Robin Thede as Gina ushering her Caucasian housemaid into a ceremony where she's draped in braids. Gina then asks the housemaid if she can touch her hair, to which the housemaid replies, "May Jesus bless your fingers."
Bless Robin Thede for creating this sketch!

What we didn't know, though, is that Robin also created a full mockumentary based on the sketch that is equally funny, if not funnier. In this mockumentary, we see Gina being interviewed as she recalls the horrific moment of a person's hand being caught in her hair. Gina begins crying, but quickly sees the silver lining, stating, "But she was white, so my credit went up." Another interviewee reveals that in this world "…all writers are legally required to be Black women."

SHONDA RHIMES WOULD BE HAPPY ABOUT THAT!

The mockumentary ends with one interviewee saying that she'll be working on a buddy comedy with Todd Bridges and Maxine Waters called Bridges Over Troubled Waters — and this is the moment when it would be OK for you to fall out. 

Watch the full Mockumentary below

Be sure to catch all new episodes only on BET Thursdays at 11P/10C.