See Who Is Bringing #BlackGirlMagic to Brazil
MC Soffia is jumping from one music move to the next!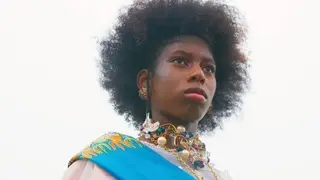 Musician and artist MC Soffia has been preparing for the music career she was destined to have, from an early age.  At the age of six she participated in community hip hop workshops in her home country of São Paulo, Brazil. It was there where she learned the basics of becoming an artist. Taking classes in graffiti, DJing and dancing, MC Soffia infused all of these skills into her music.
From the outside looking in, MC Soffia makes her work look flawless. However, growing up was not easy for her. She did not fully accept herself: her skin color, hair texture, and her body due to the teasing that she endured from other kids in school. MC Soffia decided to use her platform as a rapper, singer and songwriter to empower Black girls in the Brazilian community.
Most recently, she was the 2016 Rio Olympic Opening Act performer. Fourteen-year-old MC Soffia continues to make moves, bring #BlackGirlMagic to the forefront and change the narrative in São Paulo, Brazil.
One of her famous tracks, "Menina Pretinha," which means "Black Girl" in English, addresses racism, prejudice and equality.  
We're suggesting that the world watch out because this young superstar is well on her way and is not letting anything stop her. She is following her own beat, blazing her own trail and continuing to be true to who she is while encouraging others to do the same.