Watch: The Clark Sisters React to Jay-Z and Beyoncé Sampling Their Music on '4:44'
Jigga used the group's track, "Ha Ya (Eternal Life)" on fan favorite "Family Feud."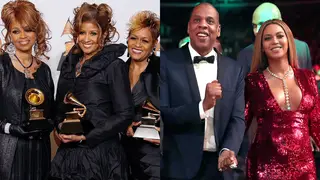 Who doesn't love a good crossover moment, especially when two of the most iconic forces within two genres are involved?
This was the case for hip hop juggernaut Jay-Z and gospel greats The Clark Sisters as Jigga sampled the group's song "Ha Ya (Eternal Life)" for early fan favorite track, "Family Feud," which features his megastar wife Beyoncé.
In the song that, upon first listens, many are deeming the most personal on the intensely praised LP, the Hollywood power couple highlights the group's melodies and well-known harmonies, with social media expressing their love for the reference.
What many were not expecting, however, was the Clarks to actually respond and listen to the album, which they did and showed on Instagram.
Karen Clark-Sheard took to IG to share her appreciation for the couple and their consideration.
Too cute. This just proves that inspiration knows no genre.
See if Jay might be headed on tour this fall with BET Breaks, above.