Report Blasts Israel on Mistreatment of African Migrants
Human Rights Watch claims that nearly 7,000 Sudanese and Eritreans are being coerced to return to their homes where they may face serious abuses.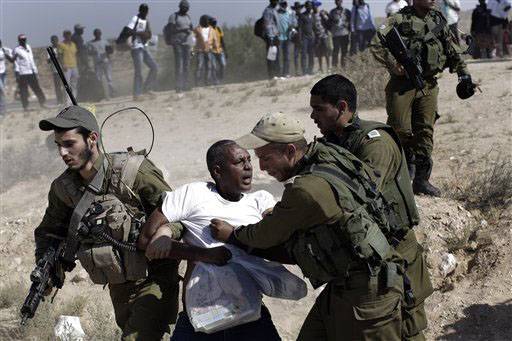 Watchdog organization Human Rights Watch recently released a report on Israel's treatment of African migrants, slamming the country for allegedly forcing nearly 7,000 Sudanese and Eritreans to return to their homes where they may risk serious abuse.
"Over the past eight years, the Israeli authorities have applied various coercive measures to 'make their lives miserable' and 'encourage the illegals to leave,' in the words of former Israeli Interior Minister Eli Yishai and current Israeli Interior Minister Gideon Sa'ar, respectively," reads a release for the report. "These include indefinite detention, obstacles to accessing Israel's asylum system, the rejection of 99.9 percent of Eritrean and Sudanese asylum claims, ambiguous policies on being allowed to work, and severely restricted access to healthcare."
AP reports that Israel has been sending thousands of Eritreans and Sudanese migrants to "hardscrabble detention centers" in the Negev desert for the past several years.
According to Human Rights Watch, some returning Eritreans have faced grave personal risk, such as harassment and abuse from local authorities, while returning Sudanese face torture, arbitrary detention and treason charges from the anti-Israel government.
"Destroying people's hope of finding protection by forcing them into a corner and then claiming they are voluntarily leaving Israel is transparently abusive," said Gerry Simpson, senior refugee researcher at Human Rights Watch and author of the report. "Eritreans and Sudanese in Israel are left with the choice of living in fear of spending the rest of their days locked up in desert detention centers or of risking detention and abuse back home."  
"International law is clear that when Israel threatens Eritreans and Sudanese with lifelong detention, they aren't freely deciding to leave Israel and risk harm back home," Simpson added.
Israeli Interior Ministry spokeswoman Sabine Haddad responded to the report via email, assuring AP that Israel was "handling the challenge of the migrants in a legal and appropriate way."
"The growth in the voluntary repatriation of the migrants by three times from 2013 to 2014 proves that the policy is working," said Haddad.
Sudanese and Eritrean asylum seekers began arriving illegally in 2006 to escape widespread human rights abuses in their countries. About 37,000 Eritreans and 14,000 Sudanese had entered Israel through Egypt's Sinai Peninsula by the time the Egypt-Israel border was closed in December 2012.
Immigration critics who are aiming for a limit to the number of migrants allowed in the country argue that migrants have increased the rate of petty crime and turned the poor neighborhoods where they have settled into slums.
BET Global News - Your source for Black news from around the world, including international politics, health and human rights, the latest celebrity news and more. Click here to subscribe to our newsletter. 

 (Photo: AP Photo/Tsafrir Abayov, File)