Brittney Griner's Wife Cherelle Reflects On The Moment They Reunited: 'I Couldn't Let Her Go'
The couple is focused on the road ahead after the WNBA star's release from a Russian prison camp.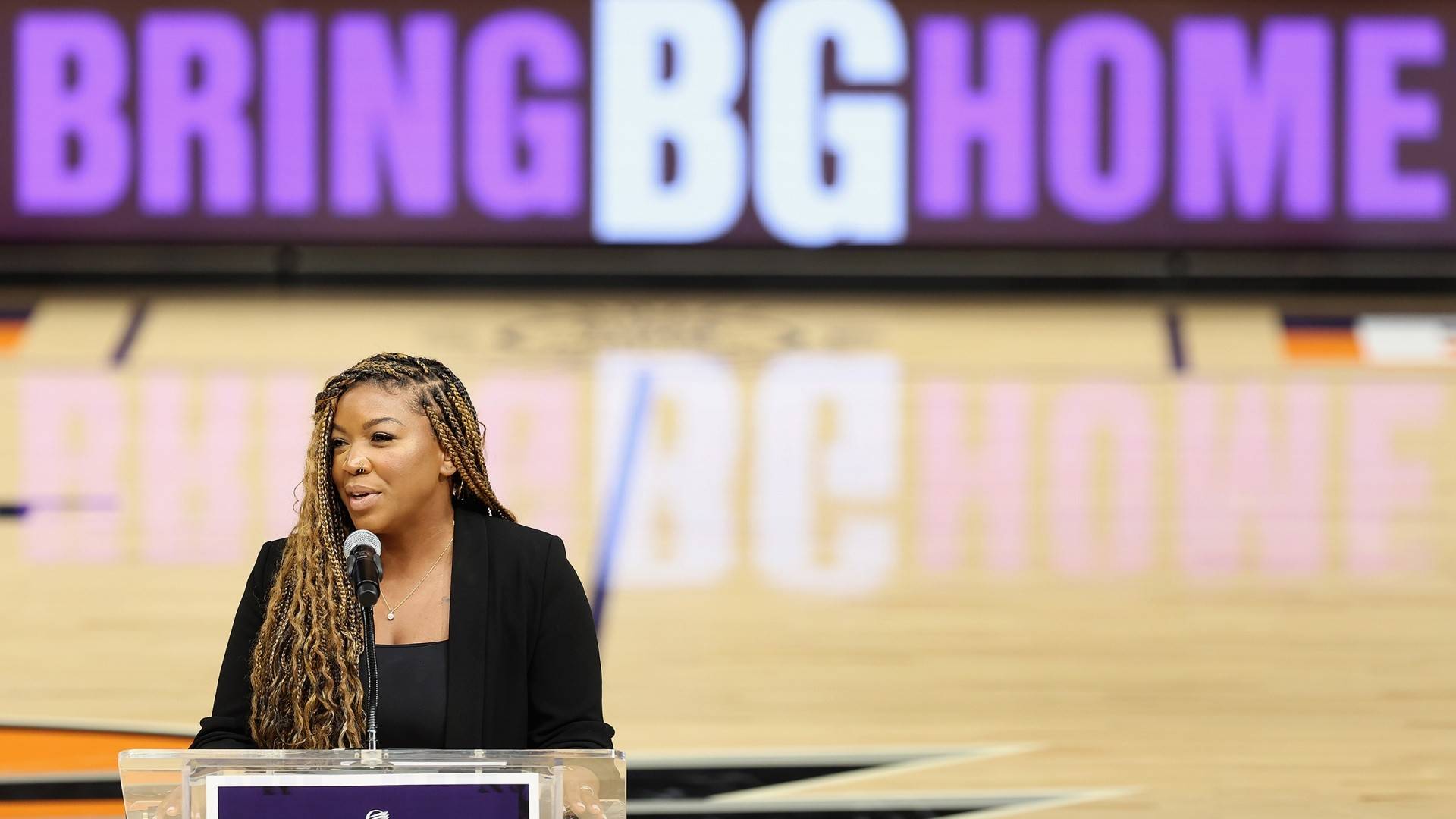 Brittney Griner's wife Cherelle Griner says they are focused on their future nearly three weeks after the WNBA star returned to the United States following a high-profile prison swap with Russia.
In an interview with People, Cherelle opened up about the moment she reunited with her two-time Olympic gold medalist wife more than 10 months after her arrest in Moscow.
"I couldn't stop touching her face," Cherelle recalls. "I was like, 'Is this really you?' It did not feel real. It was chilling—and warm. I was just holding on tight. I couldn't let her go."
Cherelle was a staunch advocate for Brittney's return, meeting regularly with White House officials and the president. During the 294 days that Brittney was incarcerated in Russia, Cherelle completed law school and focused diligently on getting Brittney home.
"I was hopeless a lot of days," Cherelle admits. "You try and stay grounded, but I'm human. Still, I would never completely give up hope on my wife's life."
On December 8, Cherelle was told by President Biden that her wife was on a plane and headed back to the U.S. "I had thought about that moment a thousand times, and I thought I would be full of tears," she says. "But I was overwhelmingly happy. It was the first time I was able to finally exhale, and I'm like, 'Oh, thank God, this is such a great day.'"
She reveals when they saw each other, she and Brittney were "both just instantly crying."
She adds, "The first night, we didn't sleep at all. We just talked all night long and all morning. And it was so good to be able to do it without three weeks in between the conversation, because for 10 months we were passing letters. It was great to have that dialogue back and forth."
As for the future, she says, "On one hand, I'm doing amazing. My family's whole, I have my person, and so I feel the most supported and safe and secure as I've ever felt in life. But it's very overwhelming. We're plus-13 days in from BG being away for almost 10 months. So it's a new journey for us. And so we're definitely trying to figure out how we blend back as one."
Cherelle explains that the ordeal has changed her professional goal.
"I realized how voiceless the issue is," she says. "I was 29 when Brittney was detained, and that's when I found out that it was even a real thing. That shouldn't be the case. I should have known about that before, which means we need more voices around this issue. My story came full circle. But there's so many other Americans, their story is not full circle. And so it's changed everything about what I thought I was going to do career-wise."
Since their reunion, they are finding their new normal. "We're mindful of the fact you can't go backwards. You say, 'Oh, let's get back to normal,'" says Cherelle. "We do understand that the normal we are referring to was what we were doing before February 17. We reminisce about certain things in the past. Still, we're trying to make sure we're not going backwards. For the most part, we're eyes focused on what's in store next for the both of us."