Twitter Goes In On ESPN Anchor Sage Steele For Comments Made About Barack Obama, His Father, And His Blackness
Her thoughts about race and identity seem to have taken a left turn.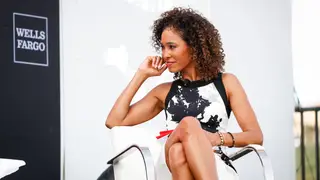 ESPN anchor Sage Steele is picking up lots of heat for recent comments about former President Barack Obama that dip into the controversial waters on race, ethnicity and identity.
Steele appeared on the podcast Uncut with Jay Cutler, which is hosted by the former NFL player, where she complained about being forced to take the coronavirus vaccine, which was mandated by her employer, ESPN. Steele called the mandate "sick" and "scary." As much of a hot button issue as that may be, it was her choice words about Obama and his father, who died nearly four decades ago, that had people talking. 
When asked what box she checks on the Ccnsus, Steele took the opportunity instead to bring up President Obama's racial identity. The 48-year-old, who herself has an African American father and an Irish/Italian mother, was complaining about having to mark "Black" on the last census because she actually self-identifies as biracial, which is technically not a racial category but a racial descriptor. 
"If they make you choose a race, what are you gonna put? Well, both," said Steele. "Barack Obama chose black and he's biracial…congratulations to the President, that's his thing, I think that's fascinating considering his black dad is nowhere to be found but his white mom and grandma raised him, but okay. You do you. I'm gonna do me."
"Listen, I'm pretty sure my white mom was there when I was born," she continues. "And my white family loves me as much as my Black family."
Obama wrote about his father in depth in the 1995 biography, Dreams from My Father, and the impact of his absence in his childhood. Obama Sr. died in 1982 at 48 years old in an automobile accident when his son was only 21 years old. 
Steele may be confused about how the census works. Since 2000, anyone can select more than one race on the census where responses reflect how a person self-identifies. Respondents are asked  to report the race or races they consider themselves, and other members of their households, to be.
Lots of folks had something to say from Jemele Hill to Roland Martin, see below: