White Police Officer On Trial For Killing A Black Man For The First Time In Kansas City, Missouri
Cameron Lamb, 26, was shot and killed on Dec. 3, 2019.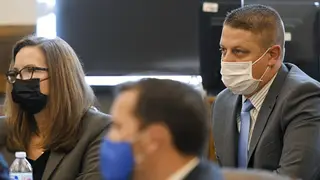 For the first time in the history of  Kansas City, Missouri, a white police officer has been criminally accused of killing a Black man.
According to KMBC, Officer Eric J. DeValkenaere has been charged with armed criminal action in the death of 26-year-old Cameron Lamb, who was fatally shot on Dec. 3, 2019. DeValkenaere's trial will begin next week.
Lamb was shot in his car by police in Kansas City, Missouri on Dec. 3. The car was in his own backyard.
At the time of the shooting, police offered very few details but the family believed it was a case of mistaken identity, according to WDAF.  Lamb was a father of three small children, who were all between the ages of 21 months old and six years old at the time of his death.
KMBC reports officers were investigating a car crash and a police helicopter followed Lamb into his driveway. DeValkenaere and another detective, Troy Schwalm, arrived at Lamb's home. In his driveway, the father of three had his left hand on the truck's steering wheel and his cellphone in his right hand, according to prosecutors.
DeValkenaere's lawyers previously accused Lamb of pulling out a gun with his left hand and he fired when he saw a gun being pointed at Schwalm. However, Schwalm reportedly told the grand jury that he did not see Lamb with a gun. Additionally, medical records show that Lamb is right-handed and did not have full use of his left hand as a result of an injury four years before.
Roberta Merritt, a friend who was also Lamb's roommate at the time of his death, testified about the events of that night. According to the Kansas City Star, neither DeValkenaere nor his partner, Troy Schwalm, identified themselves as police officers. Merritt also said they were never given permission to walk onto her property. She told the court that DeValkenaere pointed his service weapon at her as he walked towards the back of the house. "I was never asked do you live here," Merritt testified.
Prosecutors likewise allege that the detectives, who were wearing plainclothes, never requested permission to walk onto the property and did not have a warrant. In June 2020, the Jackson County Prosecutor announced criminal charges against DeValkenaere charging that the detective's conduct during the shooting was "reckless" and unconstitutional. The prosecutor pointed to Lamb's Fourth Amendment rights, which should have prohibited any unreasonable search and seizures.
"Cameron was my baby," his mother, Laurie Bey told BET in a phone interview in December 2019.
"He's my youngest, he has two older siblings, two sisters by me. And Cameron, he was a boy. He was always handy with his hands."
Bey described Lamb as "very loving" and recalled how she'd purchased toy cars "that he had to put together" when he was just a boy. Fixing vehicles is eventually what he'd do for work, and what he was doing on the day he was killed in his backyard.