Kelly Loeffler: Had 'No idea' Chester Doles Was a Former KKK Leader When She Took Photo
The incumbent says she does not know Chester Doles, although she appears in a recent photo with him.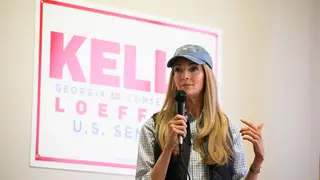 Republican Georgia U.S. Senate candidate Kelly Loeffler says that she did not know a man with whom she posed for a photo is a former Ku Klux Klan leader, the Huffington Post reported.
A progressive Jewish advocacy organization called Bend the Arc, shared the photo on its Twitter account which shows Loeffler smiling with Chester Doles, who is well-known in white supremacist circles. The photo was taken on Friday at a Loeffler campaign event in Dawsonville, Ga., and Doles also posted the image on social media. A caption attached reads: "Save America, stop socialism." But Loeffler's campaign said they had no idea who Doles is and if they did, she wouldn't have stopped for him.
"Kelly had no idea who that was, and if she had she would have kicked him out immediately because we condemn in the most vociferous terms everything that he stands for," said Stephen Lawson, spokesperson for Loeffler's campaign, said in a statement.  .
Doles was reportedly a KKK and neo-Nazi leader for many years and was also thrown out of one of Loeffler's rallies, in September the Atlanta Journal-Constitution reports. Her campaign says she did know of him then, either.
Doles, however, told the Associated Press that he has had a complete change of heart and now renounces racism and participated in a redemption service at a Black church where he "told my story and renounced all racism and asked for God's forgiveness."
However, Bend the Arc isn't buying that. In their post, they point out that he brutally assaulted a Black man in 1993 and participated in the 2017 racist Charlottesville rally that resulted in the death of one person.
RELATED: Georgia Senate Debate: Rev. Raphael Warnock Trades Barbs With Sen. Kelly Loeffler As Both Occupy Polar Political Ends
Loeffler is running against Democrat Rev. Raphael Warnock, for the U.S. Senate seat, which will be decided on Jan. 5 in a runoff vote. Warnock criticized her, saying she keeps having to explain Doles being around her.
"While Kelly Loeffler runs a campaign based on dividing and misleading Georgians, she is once again trying to distance herself from someone who is a known white supremacist and former KKK leader who nearly beat a Black man to death," said Warnock in a statement. "There's no acceptable explanation for it happening once, let alone a second time."
Early voting began on Monday (Dec. 14) in the Georgia runoff, according to the AP. The result of the race between Warnock and Loeffler, and also Democrat Jon Ossoff and incumbent David Perdue, will determine political control of the Senate.