'Donda 2': Producer Digital Nas on Balancing Projects, Finding Peace and Human Life Events
Ye's in-demand beatsmith from the ATL shares his excitement on the highly anticipated rap sequel.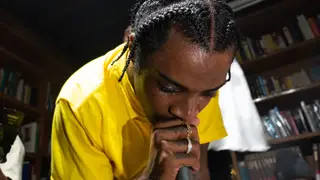 Digital Nas represents the new wave of creative force who can be transparent in effort and transplanted through the spirit to ensure a productive day. The rapper and producer, whose real name is Nasir Pemberton, has been clocking in major time with the likes of Future, Antonio Brown, and, of course, Ye (also known as Kanye West) to put the finishing touches on Donda 2.

Based out of Atlanta, Nas made a name for himself after producing "Junya" and "Remote Control" (as well as a "Part 2" for each) on last year's Donda. He met Ye in Los Angeles after the "Eazy" rapper heard his tracks through Mowalola Ogunlesi, design director, Yeezy Gap collection. Ye and Digital Nas connected on those two tracks plus the 150 others that were in the chamber, bringing their variant of "monk music" to the masses. (And the Grammys.)
RELATED: Ye Is Actively Working On 'DONDA 2'

The "NO STAIN" architect also received some specific requests for how this sequel should differ from the original. Rolling Stone reported that there are directives for the album: "If it cannot be played at a funeral, childbirth, graduation, a wedding, it will not be on our record," he said to the publication. "We learned a lot from 'Donda 1.' We learned what hit. We learned what was sticking. So we took [it] from there."

In-between bouts of sleep, Nas took a brief moment to share his excitement for Donda 2, balancing his own project, DN3, with what he learned from the original, and which human life event he'll play the sequel album at first.
---
BET.com: The musical directives on Donda 2 were learned from what y'all executed on Donda. Thematically, though, does anything from the original carry over or apply to the sequel?

Digital Nas: Yeah, we took the same formula [from Donda] as far as simplifying the music — and kept it where there's not a lot of stuff going on. We kept things like high hats or too many snares and left them on the cutting room floor.
BET.com "Junya" and "Remote Control" gave you insight on how to craft a part two, but what did you learn about tracklisting/sequencing that you're applying to DN3?
Digital Nas: Oh, man! From Donda, I was able to discover that with tracklisting and sequencing — less is more, you know what I'm saying? When I put out DN3, listeners will hear that there are not too many tracks — 11 to be specific.
BET.com Are there any non-spoiler surprises that longtime listeners can be excited about on DN3?
Digital Nas: I can tell you one thing [laughs], they're going to be extremely excited about how well put together the music is now. I'm no longer speaking out of immaturity, I have lived and with this project, I'm speaking much in tune with how my current life is going and in the best way possible.

DN3 is so much different than DN2. During DN2, I was recording from a place of feeling slept on. I was in a place in my life where I felt I was putting out some of the best art in the world and people weren't appreciating it. So, I was angry and it was an angry album — which there's nothing wrong with. A lot of music is full of rage.

But on DN3, I'm happy, and everything I said [that] I was going to do on DN2, I did. Everything I said I was going to do, I did. My music [on DN3] is amazing and all I can talk about is how I wish the world was a better place with peace. You feel there's a joy coming through this album.
BET.com: There were some directives delivered for Donda 2 where this album must be playable at "funerals, during childbirth, graduations, or at weddings." With that said, which human life event will you play the album at first? Can you share the title?

Digital Nas: [Laughs] No, I can't share the title, but I am playing it at a wedding — and if I could, it would be at [A$AP] Rocky and Rihanna's reception. That would be epic!

BET.com: For longtime listeners of your previous efforts, was there anything from these DN3 and Donda 2 sessions that they would be excited to learn?

Digital Nas: I'm ain't going to lie to you. [For my projects,] I'm putting out two projects this year. I have DN3 coming and another one on the way. Right now, we're working on getting me into all of the [music] festivals. I've already met with the people who put together Rolling Loud. There's someone from there right now with us where we're recording Donda 2.

I'm also looking to perform at Smokers Club. We're just excited to be working and are going to get added to everything, everywhere now that my project is going to be up.
Watch and listen to below "BUSSIN'," and keep in mind that Donda 2 is slated for release on Feb. 22, 2022.
---
Kevin L. Clark is a screenwriter and entertainment director for BET Digital, who covers the intersection of music, film, pop culture, and social justice. Follow him on @KevitoClark.