FYI: Treach Is Not Playing Games When It Comes to Tupac
*looks at Funkmaster Flex*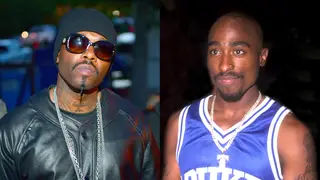 Say what you will about Tupac Shakur's controversies during his short 25 years on earth, but in his death, there's several people who will take no hesitation to defend his legacy.   
According to Naughty by Nature's lead rap talent Treach and his warning shot, there's one person in particular who especially needs to leave the West Coast legend's name from out of his mouth: Funkmaster Flex. 
In the apparently premeditated "Whoooh Ruff Mix" diss record aimed at the New York DJ, Treach spits off a slew of warnings and scorn for Flex. Treach is heard in a clip of the record, obtained by TMZ, firing shots after Flex's inflammatory allegations that Pac shot himself in 1994 and blamed his rap rival Notorious B.I.G. for it. He suggested that the All Eyez on Me icon was responsible for the rap beef with Biggie, which ultimately led to Biggie's death.
But Treach is not hearing it, and by the sound of the fieriest bars from the track, he's not having it either.
"Death to his soul, his turntables and his motherf**king old, stinkin' a** grandparents," Treach raps. "Because they old a***s had a orgy with Lucifer, now you got a date with death from a Naughty n***a that's shootin' ya."
Treach also reportedly told TMZ that Flex's violation of Pac deems him "banned worldwide" and took more shots at his DJ role.
"Who the f**k is any DJ to talk about anybody who made your career by making hits for you to play?" he allegedly shared with TMZ.
Yikes. Don't expect this one to get spun on Hot 97 during Flex's set.
Check out a clip from the anti-Flex single below.