Steve Harvey Reveals Some Of His Kids Were 'Totally Against' Him Marrying Marjorie: 'It Was Hard Man'
The television personality gave insight into how his blended family gets along sharing that the relationships are 'cordial.'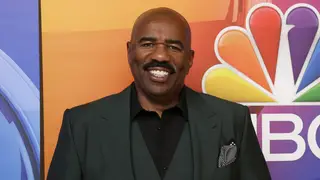 When Steve Harvey announced his plans to wed his wife Marjorie in 2007--the author and television show host admits that not everyone in his family was excited.
In an interview with football legend and sports commentator, Shannon Sharpe, on his podcast Club Shay Shay, Harvey gave some insight into how the two families became one.
"That sh-t hard." Harvey said of blending families. He said that Lori and Morgan (Marjorie's daughters) and his biological daughters, twins Brandi and Karli did not hit it off at first and urged the couple to push back their nuptials.
"They went bowling one night in Memphis when me and Marjorie first got together. We brought all the kids together, all seven. All the girls went bowling, came back and decided they didn't want us to get married and said they don't think it's the right thing to do. And they need more time to get to know us," he recalled, per Essence. "I'm sitting up here looking at some people who ain't got sh-t. Y'all ain't got a relationship, a good a– job, a career. I'm paying for colleges and sh-t. How am I listening to y'all making some damn decisions? Y'all ain't got one boyfriend that's worked thus far. So I don't know how the hell you gon' tell me how to live."
The couple's sons, however, were all in for the new arrangement.
"They cool with everything," he said. "The four girls? Just total mayhem. Totally against it."
Eventually, Steve put his foot down, saying, "I love this girl," adding that she was "the best thing for me. We gon' work. We're gonna create an atmosphere of love and everyone's invited into it. Anybody that wanna come into it can come into it."
He said that the family occasionally vacations together and celebrates holidays.
"It was hard man. They were trying to evolve and get to know each other and some of the relationships are really good and some of them, they're cordial," Steve shared. "That's just the way it is."
Marjorie and Steve Harvey wed in 207. The couple has evolved into #couplegoals as they share glamorous pictures (often in exotic locations) on social media.
Daughter Lori Harvey, whom Steve adopted, is a model, entrepreneur and socialite.