Travis Scott Slated to Take the Stage With New Las Vegas Residency
The shows are set to start on September 17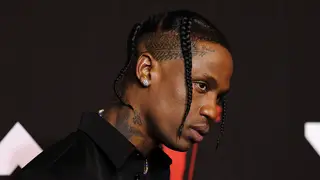 It's a good day for fans of Travis Scott after it was announced that the rapper would be making his return to the big stage with a Las Vegas nightclub residency titled "Road to Utopia." According to organizers, the Houston native is set to headline seven shows at Zouk Nightclub at Resorts World starting September 17.
The show is described as a "mind-bending, first-of-its-kind nightclub residency experience," as well as a platform for the 31-year-old to preview new material. "From his music and fashion to unprecedented brand collaborations, Travis Scott is a one-of-a-kind, multi-talented artist," Ronn Nicolli, chief marketing officer of Resorts World Las Vegas, said in a statement.
He added, "His residency will bring a new level of energy to Resorts World Las Vegas and add to the property's diverse list of entertainment and nightlife offerings." Meanwhile, Andrew Li, CEO of Zouk Group, called Scott "a seamless fit for the Zouk Nightclub roster.
The announcement comes just three months short of a year since the horrific tragedies that occurred during his set at Astroworld in Nov. 2021. A total of ten people died from compression asphyxia, and dozens more were injured. Nearly 400 lawsuits have been filed against Scott, Live Nation, and others involved in the festival.
Currently, the "Road to Utopia" dates on sale to the public are on Sept. 17 and Oct. 15. Additional performance dates and ticket information are to be announced soon.