New York Rapper Lil Peep Dead At 21, Body Reportedly Found On Tour Bus
His death has ignited the internet's debate on hip-hop's drug use.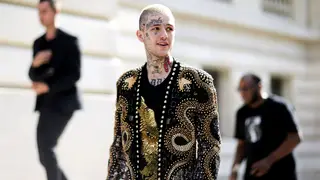 A sad day on the millennial music scene arrived on Thursday (November 16) after reports confirmed that New York rapper Lil Peep was found dead on his tour bus from a suspected drug overdose.
According to TMZ, the 21-year-old's manager, Mikey Cortez, discovered his body on the bus outside of The Rock club in Tucson, Arizona, when he went to check on him around 9:40 p.m. Law officials reportedly added that he was surrounded by drug paraphernalia leading them to evidence of a possible drug overdose, namely Xanax.
Peep's Instagram post from earlier in the day also raises overdose suspicion, showing the 21-year-old with two pills stuck to his tongue and a caption on the picture that reads, "fucc it." No official autopsy or reports of an official cause of death has been ruled yet. But now that the rising emo singer and rapper has passed away, fans and Hollywood have a lot to say in light of his untimely death.
Music stars everywhere outpoured their condolences for the 21-year-old, including Lil Yachty

Juicy J

iLoveMakonnen

Metro Boomin

Sam Smith

Lil B

Playboi Carti

and Ty Dolla $ign...

For fans and Internet regulars everywhere else, Peep's death is opening up much-needed dialogue on the drug use wave washing over hip-hop