This Tennis Match Was Hilariously Interrupted by a Couple Having Loud Sex
The look on player Frances Tiafoe's face was priceless.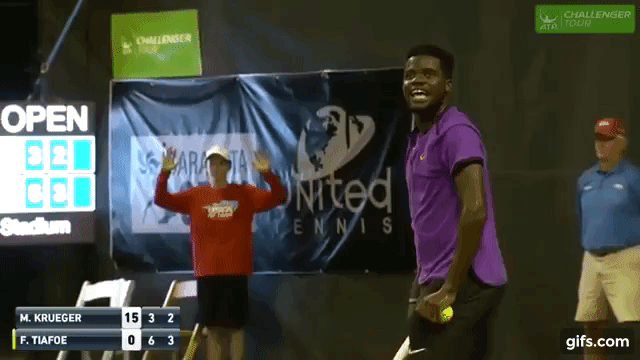 Tennis fans are relatively more calm and quiet than the raucous fans of other sports, such as basketball, football and baseball. So, just imagine a tennis match being interrupted by the sounds of sex.
That's exactly what happened during Tuesday night's match between Americans Frances Tiafoe and Mitchell Krueger at the ATP Challenge Tour in Sarasota, Florida. While Tiafoe was serving in the second set, the match was interrupted by some moans and groans from what turned out to be a couple having loud sex across from James T. Driscoll Stadium.
At first the match's announcer, Mike Cation, incorrectly thought the sounds were porn playing on a fan's cell phone.
"Well, that is the most bizarre situation," he said on the Challenger Tour's livestream. "I don't know how to put this, folks, but somebody's phone's going off in the stands ... and it was an adult video." 
Tiafoe couldn't help but crack a smile, pausing in disbelief, while Krueger jokingly swatted a tennis ball in the couple's direction.
At the two-minute mark of the video below, 19-year-old Tiafoe even hilariously yelled, "It can't be that good" in the couple's direction, as they never bothered to stop their smash session.
Take a look at how the hilarity ensued below.
And Cation joked about it after the match, which Tiafoe won 6-3, 6-2.
You could say that this tennis match hit all the high notes.
BET Sports News — Get the latest news and information about African-Americans in sports, including weekly recaps, celebrity news and photos of your favorite Black athletes.