Wendy Williams Goes Ballistic On Audience Member Whose Phone Rings During Show Taping
"Get out!"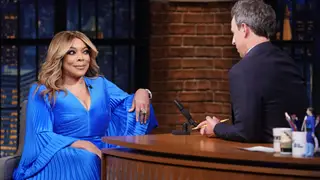 Wendy Williams makes it no secret that she runs a tight ship at "the bureau," as she calls her show, so when audience members get out of line, she never hesitates in calling them out.
During Tuesday (October 8) morning's episode of the Wendy Williams Show, one audience member learned this the hard way when their phone rang while Wendy was in the middle of her "Hot Topics" segment.
"Is somebody's phone on?" she asked, stopping in her tracks while speaking about Jennifer Lopez's alleged diva demands. "Get out! Get out! Turn that phone off now, sir, ma'am, whoever you are. Just, please, kindly."
She went on to remind the crowd that, while the tickets to her show are free, there is a solid rule in place that they must turn off their phones before filming begins.
After admitting that she "was being overdramatic" with her reaction, she calmly asked that everyone in the audience silence their ringers.
Take a look at the moment below, starting at the 10:46 mark:
Fans of the show should take note, as the Wendy Williams Show isn't going anywhere. In fact, the talk show, which is currently in its 11th season, was recently renewed through 2022.