First Lady Michelle Obama Pivots Focus to Higher Education
First Lady Michelle Obama discusses the importance of higher education with D.C. high school students.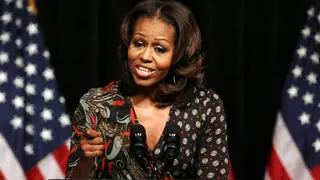 First Lady Michelle Obama has spent the majority of her time in the White House focusing on getting the nation's children to exercise and make healthier food choices. Today she gave them another goal to shoot for – the pursuit of higher education, whether it's at a vocational school or a four-year college.
In remarks delivered at Bell Multicultural High School, located a short distance from the White House, the first lady told students that no matter what their plans or dreams for the future may be, they must "do what it takes to continue your education after high school" and build a foundation for a successful life.
Obama, who holds degrees from Princeton and Harvard, reminded the audience of sophomores that she once walked in shoes very similar to theirs and described some of the challenges she faced as she prepared to apply for college. As is the case in many public schools today, there were too few guidance counselors at her high school with too little time to help with college applications. Obama also couldn't afford SAT prep courses or to visit the colleges she was considering and would have to depend on financial aid to fund her education.
"And then – get this – some of my teachers straight up told me that I was setting my sights too high. They told me I was never going to get into a school like Princeton," she said. "I still hear that doubt ringing in my head. So it was clear to me that nobody was going to take my hand and lead me where I needed to go."
She counseled students to remember that their circumstances don't have to define their future.
"It's your attitude. It's your commitment. You decide how high you set our goals. You decide how hard you're going to work for those goals, You decide how you're going to respond when something doesn't go your way," the first lady said.
Obama, who was joined at the event by Education Secretary Arne Duncan, also participated in a question-and-answer session with the audience about college life that was moderated by two hosts from BET Networks.
And while the first lady praised that goal, she stressed how important it is for students to not get in their own way.
"At the end of the day, no matter what the president does, no matter what your teachers and principals do or whatever is going on in your home or in your neighborhood, the person with the biggest impact on your education is you," she said. 
BET National News - Keep up to date with breaking news stories from around the nation, including headlines from the hip hop and entertainment world. Click here to subscribe to our newsletter.  
 (Photo: Mark Wilson/Getty Images)