Adrienne Bailon Shares A Sweet Video Highlighting Her Life As A New Mom—See The Star's Baby Boy!
Ever James is the newest addition to the Houghton family.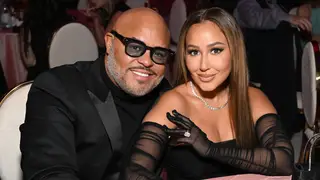 Adrienne Bailon Houghton and her husband Israel Houghton recently welcomed a beautiful baby boy via surrogate. Keep scrolling to see Ever James!
The Real co-host alum announced the birth of her first child in August 2022. Since then, the proud mom has posted several images of her little one on social media.
In one Instagram post, she shared, "Our baby boy is here & we are so in love!"
If you've been following the married couple's love story, you know that their baby journey has been very challenging. However, the new mom affirms, "God is true to His word and His promises."
The singer and actress proclaims that Ever James is "worth every tear, every disappointment, every delayed prayer, every IVF cycle, every miscarriage."
Adrienne recently posted a video showing sweet bonding moments with her little one. She captioned the video, "[And] just like that… life is sweeter than I could have EVER imagined."
The environment of pure love is the wholesome content we all need on our timelines. Congratulations to the Houghtons!