McDonald's Introduces A Plant-Based Burger Just In Time To Compete With These 'Healthy' Items From Fast-Food Chains
See what KFC, Burger King, and more are cooking up for vegans and vegetarians alike.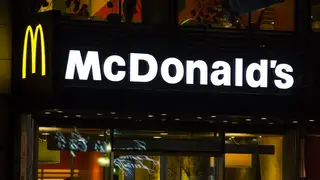 Didn't meet your #bodygoals for summer '19? No problem. Join the list of people already preparing to ace their New Year's resolution.
With only four months until 2020, more and more people are setting their goals to dive into a healthier lifestyle, and thanks to the power of our influence, fast-food companies are paying close attention!
If you haven't gotten the memo, while Popeyes short-lived spicy chicken sandwiches may have had us drooling, plant-based meat alternatives have become all the rage across the world as people search for environmentally friendly and healthier foods to eat. 
Take a look at the major fast-food chains that are offering healthy options, including meatless proteins to help meet the demand!
McDonald's Introduces Their Pretty Little Plant-based Burgers!

In efforts to provide healthier options, McDonald's recently announced their plans to offer a plant-based burger in North America.

CNN reports, the fast-food chain will be welcoming the P.L.T.—a plant-based burger (using Beyond Meat) garnished with lettuce and tomatoes—to their menus in Canada. 

Starting Monday (Sept. 30), the P.L.T. is set to be sold for 12 weeks in 28 restaurants across Southwestern Ontario.

Taco Bell Wants To 'satisfy all your cravings' with their Vegetarian Menu

In the mood for Mexican-inspired deliciousness but looking for a meatless option? You're in luck! 

In efforts to "satisfy all your cravings," Taco Bell just dropped two new items on their vegetarian menu — the Black Bean Crunchwrap Supreme and the Black Bean Quesarito.

The redesigned menu features 13 customizable meals, but according to the fast-food chain, the possibilities are endless thanks to the ability for customers to make non-vegetarian items vegetarian friendly by substituting beans for meat.

According to Taco Bell's website, vegetarians can "rejoice" because their vegetarian menu has been certified by the American Vegetarian Association (AVA) — making them the first and only quick fast-food chain to receive the certification in 2015.

KFC Introduced A Kentucky Fried Miracle...The 'Beyond Fried Chicken'

In August, Kentucky Fried Chicken had lines wrapped around their store when they announced to the world their Beyond Fried Chicken will be selling at a single restaurant in Atlanta.

Promising the alternative chicken is "still finger lickin' good," fans of the fast-food chain flocked to the store, which sold out of their Beyond Fried Chicken within five hours!

Collaborating with Beyond Meat to offer a fried plant-based chicken in two forms: nuggets or boneless wings, KFC became the first national fast-food restaurant to test Beyond Meat's plant-based chicken.

With a successful test run, we're positive this isn't the last we've heard from the crispy substitute!

Dunkin' wants to have you drooling over its 'Beyond Sausage Breakfast Sandwich'

Dunkin' (previously known as Dunkin' Donuts) emerged as a contender in the meatless world when they announced in July the launch of their meatless sausage sandwich, the Beyond Sausage Breakfast Sandwich, in 163 locations across Manhattan.

The $4.29 sandwiches made using Beyond Meat's vegan sausage, American cheese and eggs are not exactly vegan, but it's a good addition for those looking for a healthier alternative to meat.

Dunkin' has yet to announce when it is going to be launched nationally.

Chipotle Dropped An entire line of 'lifestyle bowls'!

Earlier this year, Chipotle introduced the world to their lifestyle bowls, a strict new collection of meals catering to paleo, ketogenic and Whole30 lifestyles.

The Paleo Salad Bowl, feature foods from the paleolithic era. The Keto Salad Bowl caters to the ketogenic diet of low-carb and high-fat foods. The Whole30 Salad Bowl has not an ounce of sugar, grains, dairy and legumes. 

"These first-to-category, diet-driven menu offerings are helping those who have committed to living a healthier lifestyle by making it easy to order delicious bowls that only contain the real ingredients permitted by certain diet regimens," the company said in a statement.

In March, looking to cater to those who don't eat any animal products, the chain created two new bowls to add to their restaurants across the U.S.: the Vegan Bowl and the Vegetarian Bowl. 

Burger King Wasn't Fooling Around When They Launched the 'Impossible Whopper'

On April's Fool's Day, Burger King tested a meatless version of its signature Whopper, called the Impossible Whopper.

No joke. After a series of rave reviews, reports began to surface revealing to the world that the Impossible Whopper will available nationwide.

Earning their crown thanks to the inclusive new addition, Burger King became the largest national fast-food chain to embrace alternative proteins.

White Castle became America's first fast-food burger chain to jump on the meatless burger lifestyle with the 'Impossible Slider'

Many were quite surprised when White Castle became America's first fast-food burger chain to jump on the meatless-burger lifestyle.

In April 2018, the fast-food chain introduced the Impossible Slider to their menus across the country, which you can get your hands on for $1.99.

Continuing to cater to those who wanted meatless deliciousness, the fast-food favorite also dropped Black Bean Sliders in supermarkets for those who want a made-at-home option. 

McDonald's Flexes their meatless vibes with the 'Big Vegan Burger'

Honestly, we weren't too shocked to hear that earlier this year McDonald's decided to join in on the trend of giving customers healthier options as the brand continues to try their hands at healthy menus. 

In efforts to bring about a healthier lifestyle for their customers, the fast-food chain teamed up with Nestlé to create a meatless patty for their Big Vegan Burger. 

At the present time, McDonald's is only testing out their vegan burgers in Germany, one of its five leading markets, but looking at the response, it might be a winner!