10 Black Fitness and Dance Influencers To Follow During The Coronavirus Quarantine
These instructors will help you stay motivated, stay in shape and stay safe from the comfort of your home.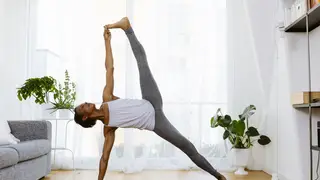 While practicing social distancing, feelings of isolation and loneliness can have a significant impact on stress levels and overall mental health. BET has joined the #AloneTogether campaign in an effort to support mental and emotional health in Black communities by providing content focused on health and wellness, ways to safely connect with others and practical steps to combat negative thoughts and feelings as we all navigate through the coronavirus global pandemic.
_____________________________________________________
With many people around the country several days into "sheltering in place" due to the COVID-19 pandemic, gyms are closed and snacks are abundant. That means beach body goals and another Hot Girl Summer are in great danger. No worries though! Instagram is here to help.
Don't let you're lack of gym access keep you from moving. These 10 IG accounts will keep you in tip-top shape right from your living room. You might even have fun while you're doing it. 

Demetria Irwin is a New York City-based writer and editor. Follow her on Twitter @Love_Is_Dope.
Coach Cass Fit

Are you ready for a high-energy workout that will also make you yell "Ayyyyyeee?" This is the Instagram account for you. Cassandra Nuamah aka Coach Cass Fit is a certified personal trainer and wellness coach who gives you all the squats, lunges, and everything else you need to sculpt your body as she dances to African diaspora tunes.

Check out her online class each week at Kukuwa Fitness Online for new dance fitness workouts. You don't need a gym with fancy machines to break a sweat with this lady. Plus. her megawatt smile is really all the extra motivation you'll need to get things going.

The Fit New Yorker

Don't let the name fool you. Max Tapper is an entrepreneur and personal trainer whose videos on fitness and diet are for everyone, not just those in the Big Apple. He offers everything from foods that help build your immune system to nutritious smoothie recipes to fun workout challenges like his 100 squats a day for 30 days idea.

Tapper also started GGV Naturals which offers 100% organic CBD products made from full spectrum hemp extract for those in need of a natural pain and anxiety relief solution. 

Debbie Allen

Everyone has loved Ms. Debbie Allen since her days on Fame back in the 1980s. It's the 21st century and she has not lost one, single step.

In addition to running her eponymous dance academy, Ms. Allen has also been gracious enough to extend her talents to the masses for free in this time of crisis. She has utilized Instagram Live to teach dance classes and it is quite the treat. Get ready to sweat!

Andia Winslow

This bubbly actor, voice-over artist, professional golfer, sports performance coach and adventurer offers up several creative ways to stay in shape on her Instagram account. Though some of Andia Winslow's journeys in nature are likely off-limits right now, she has some cool ideas about how to use every day products you can find in your home to amplify your workout.

She shows how to turn everyday household items like irons, water jugs and even dish towels into your new workout tools. 


Hurricane Fitness

Join this proud Ghanaian every Wednesday and Saturday for his AfroBeat Burnout sessions, which are now offered online. He promises to include dance and aerobic movements performed to high energy African music which will make the experience feel more like a dance party than a workout.

We can't promise you'll get abs like Hurricane, but you can at least have fun trying. Like the man said "Don't let this virus and the quarantine stop you from reaching your fitness goals or being active."

Faith Hunter

Not all movement has to be fast-paced in order to be effective. Dive into some yoga and meditation daily with DC-based yogi, Faith Hunter. She and other instructors from the Embrace studio offer online classes every day on a sliding scale.

In this time of high anxiety, Hunter offers practical advice on how to keep stress from negatively impacting your physical health. Namaste...


Arnie Gaither

A hearty boxing workout will definitely bring out the sweat. Follow Arnie Gaither on IG @arnie_abs for fitness inspiration and quick, at-home routines to try.

A few burpees never killed anybody, right? Gaither is one of the instructors at Washington D.C.'s Do You Rumble, which is streaming workouts daily on Instagram Live.


Lita Lewis

Lita Lews has been a dominant force in personal fitness for years and she continues to serve up health and wellness jewels to all her Instagram followers which total to nearly half a million fans.

Knowing that folks are cooped up in the house with little to no equipment during this quarantine, Lewis walks you through workouts that are 10 minutes and less but still offers a powerful impactful.

Jeanette Jenkins

You might recognize the name Jeanette Jenkins as one of the top celebrity peronsal trainers in the game, but us regular folks can work out with her too and for free at that.

Jenkins' Instagram page is full of bite-sized workout routines that are perfect for your bedroom or living room space. She even put together a home workout calendar that targets different body parts each day. The woman has done all for you so there is literally no excuse not to try.


Massy Arias

When you have more than 2.5 million followers on Instagram, you must be doing something right.

Massy Arias is giving the people what they need. In addition to easy-to-follow workout routines that can be done at home before you sign on to that work from home Zoom conference, Arias also serves up recipes to go along for your evening homecooked meal. All while enjoyingyour new-found love of fitness.