Graphic Video Shows Sacramento Police Gun Down Unarmed Stephon Clark In His Own Backyard
Cops fired 20 bullets in a matter of seconds.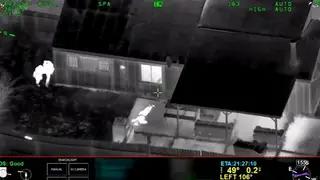 Released footage from body cameras and helicopter cameras shows the moment two officers with the Sacramento Police Department fatally shot at 22-year-old Stephon Clark 20 times on Sunday night.
The young father of two was unarmed at the time of the shooting, and the only object retrieved from the scene was his cell phone, although police initially claimed he had a gun or a "toolbar" in hand.
The unidentified officers were called to the scene after it was reported that a Black man was breaking into cars in the neighborhood.
Disturbing video taken from the helicopter cam shows thermal images of Clark hopping fences in his neighborhood, making his way to the home he shared with his grandparents and two sons, ages 1 and 3.
Seconds after Clark stops in the yard, officers move in and begin firing. Clark falls to the ground while sparks from gunfire can still be seen.
Warning: the footage below is graphic

In body camera footage, also released Wednesday, officers talk to other residents of the neighborhood and then pursue Clark on foot. 

"Hey, show me your hands!" an officer yells as they encounter Clark.

"Gun! Gun, gun, gun!" he shouts. Both officers then began shooting.

The chilling footage from the police body cams show the officers approach Clark and begin firing

Approximately six minutes into the 17-minute-long video that shows Clark's killing from an officer's perspective, an officer can be heard saying, "mute." The, the audio cuts out.

Both officers involved in the shooting have been placed on paid leave pending an investigation.

Clark's killing has resulted in a movement on Twitter for people demanding answers

Sacramento Mayor Darrell Steinberg encouraged people not to jump to any conclusions about the shooting until the investigation is complete.

"I viewed the videos carefully. Based on the videos alone, I cannot second guess the split-second decisions of our officers and I'm not going to do that," Steinberg said in a statement on Tuesday.