#MaybeHeDoesntHitYou Shines Light on the Dangers of Emotional Abuse
Dating abuse isn't just about the physical.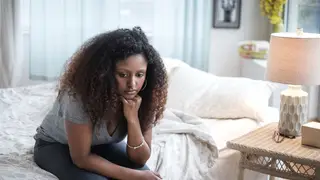 While Twitter can be known for petty feuds, hilarious memes and HOTEP recruitment, it can also serve as a space to raise awareness around some serious issues.
Started by Dominican-American Zahira Kelly, this hashtag shines a much-needed light on the dangers of emotional abuse in a relationship, a topic that is often overlooked. 
Kelly told the Huffington Post, "The initial tweets were about me and people close to me" and in time, it struck a chord with folks and started trending, with other women (and men) joining in the virtual conversation about their own experiences. And what they said about this type of misogynistic treatment and how it can manifest in our relationships was utterly eye-opening:
Kelly told BBC that many women don't realize that abuse doesn't have to be physical.  
"Abuse is often seen as very cut and dry, and only physical. For several years now on social media, on a daily basis I talk about many different forms of abuse and what they look like," Kelly said. Also, she wanted to empower people to "suss out damaging situations."
And these situations are indeed damaging, especially for women of color. The Institute on Domestic Violence in the African-American Community (IDVAAC) points out that we are more likely to have post-traumatic stress disorder, engage in unsafe sexual behavior and suffer from other mental health issues because of it.
If you're suffering from any type of domestic abuse, you can get help by calling the National Domestic Violence Hotline at 1-800-799-7233 (SAFE).