Listen: J. Cole Drops New Single "Interlude" Off Of New Album 'The Off-Season'
The completed project will be released on May 14.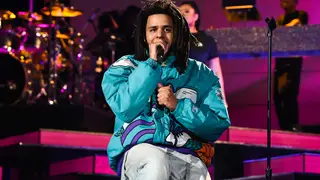 Rapper J.Cole is back like he never left with a new single from his upcoming album, The Off-Season. 
At midnight on Friday (May 7), the Dreamville artist released "Interlude." Earlier this week, Cole announced the release of The Off-Season on the 14th anniversary of his popular debut mixtape, The Come Up. 
Produced by T-Minus, Tommy Parker, and Cole, the track is available on Spotify and other streaming platforms. 
He also shared on Instagram that the project, which has been years in the making, would be available everywhere on Friday (May 14). The cover art for both The Off-Season is strikingly captivating, with Cole standing in front of a burning basketball hoop.
In July 2020, Cole released his Lewis Street EP, which included "The Climb Back" and "King on Ice."
Fans have been waiting for The Off-Season ever since Cole teased it in summer 2018. The rapper shared his "Album of the Year (Freestyle)" on YouTube and Soundcloud, hinting at its release. "The Off Season coming soon… All roads lead to The Fall Off," Cole captioned on the streaming services.
Listen to the "Interlude" below: