New York Attorney General Letitia James Announces She's Out of Governor's Race
A little more than a month after she announced her candidacy, she is pulling out to focus on another run for her current job.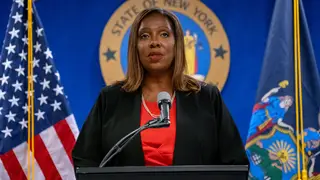 In a surprise move, New York State Attorney General Letitia James announced that she is suspending her 2022 campaign for governor on Thursday and says she will run for re-election in her current position. The development comes a little more than a month after she announced her gubernatorial bid.
"I have come to the conclusion that I must continue my work as attorney general. There are a number of important investigations and cases that are underway, and I intend to finish the job. I am running for re-election to complete the work New Yorkers elected me to do," she said in a statement posted to Twitter.
It also creates a more solid hold for incumbent and current front-runner Gov. Kathy Hochul, who James trailed in polls among Democratic primary voters, according to The New York Times. James' office also announced on Thursday that it plans to question former president Donald Trump under oath in a civil fraud investigation, the Times reported.
James' candidacy had created a very competitive field in the race for the New York governor's office. In addition to Hochul, who assumed office earlier this year after the resignation of former Gov. Andrew Cuomo, who left office in the midst of a sexual harassment scandal--New York  City mayor Bill de Blasio, the city's Public Advocate Jumaane Williams, and Rep. Thomas Suozzi of Long Island were all her chief competitors in the Democratic field.
Her office also recently released its findings of an inquiry into the scandal surrounding Cuomo, determining that he had harassed at least 11 women during his tenure in office.
James, 63, has been a rising star in New York politics for nearly two decades. She first served as a New York City Council member from 2004 to 2013, representing several communities in Brooklyn that are heavily populated by African Americans and which wield significant political influence. She also preceded Jumaane Williams as Public Advocate, serving from 2013 to 2018 before she moved on to become attorney general.
James had also been looked at for her ability to corral progressive and grassroots voters in New York City, which likely would have been a competitive stronghold up against Hochul's upstate support and her support in more conservative Democratic circles.
This decision also removes James from the list of African American women, nationally, who are vying for the same spots in their respective states. She would have joined Stacey Abrams as she runs for governor in Georgia in an equally high-profile race, a rematch of her 2018 contest against Gov. Brian Kemp, which she lost narrowly. Others include Connie Johnson in Oklahoma; Danielle Allen in Massachusetts; Deidre DeJear in Iowa; and Mia McLeod in South Carolina.