That Was Fast: Did Rasheeda Already Take Back Kirk Frost?
She had kicked him to the curb just a few months ago.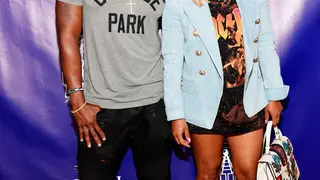 Love & Hip Hop: Atlanta's Kirk and Rasheeda Frost have detailed the trials of their dysfunctional relationship throughout several season of the reality show. In fact, during the last season, fans saw the two choose to move forward with their divorce. 
However, it seems as they have now decided to give things one more chance, as shown through their respective social media accounts.
The reality star's fans first got a taste that they may be reuniting when she reposted a video of her performing her song "Bubblegum" from Kirk's Instagram.
In fact, not only did he post the video to his account, he was actually there supporting her.
In addition to showing his support at her latest gig, Kirk's also been making it known that they have quite the history together by posting a slew of throwback photos of his children with Rasheeda.
This comes on the heels of reports from the rapper, herself, that she was filing for separation from Kirk after going through a whirlwind debacle of his cheating on her, again, and allegedly conceiving a child, in the process.
Get more news on Kirk with BET Breaks, above.