Chief Keef Photo Sparks Controversy for Anti-Violence Campaign
Some argue the rapper's inclusion sends the wrong message.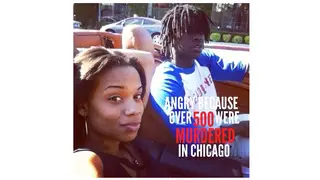 Chief Keef once again found himself at the center of controversy after a picture of him appeared in an anti-violence campaign in Chicago. This time though, the polarizing hip hop star may have been misrepresented in the drama.

The 500 Campaign, which was created by 28-year-old Bryant Cross, requests citizens of Chicago email headshots that are posted to an Instagram feed with the phrase "Angry Because Over 500 Youth Were Murdered in Chicago" written on them.
According to NBCChicago.com, the photo, which was sent in a few days ago by someone else but is said to have received the rapper's blessing, depicted Keef in a convertible with a girl by his side, with the campaign's trademark phrase written across it.
Once posted, the picture sparked massive outrage from people who feel that his music is part of the problem rather than the solution.
Keef, whose real name is Keith Cozart, is known for his violent and misogynistic lyrics and a social media presence that many find counterproductive to the 500 Campaign's credo.
Cross removed the picture but then reposted it shortly thereafter, telling NBCChicago.com that people like Keef are exactly what the campaign needs to engage a larger audience.
"Chief Keef and brothers like him are the ones we should be engaging," he told the news site, adding, "If you can't look at a photo and not get hostile — there's no hope."
The "I Don't Like" rapper is an especially polarizing figure for anti-violence campaigns. Back in September, the teenager took to Twitter to publicly mock rival Chicago rapper Lil' JoJo after JoJo had been shot and killed.
As for now, the photo stands, and Cross plans to hold a large anti-violence rally on June 10 in Chicago. He's calling for  it to be a day when nobody in Chicago gets killed.
BET.com is your #1 source for Black celebrity news, photos, exclusive videos and all the latest in the world of hip hop and R&B music.
(photo: Instagram via 500campaign)