Los Angeles Rapper Yngx 17 Dead At 28
He was a part of a road rage incident in North Hollywood.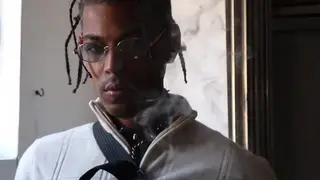 Rapper Yngx 17 has died following a road rage incident in North Hollywood on Monday (Feb. 28).
According to Los Angeles Times, the artist born Taariq Grant, was run over and pinned beneath a trailer after getting into an altercation with a driver, authorities said.
Yngx17 got into a "brief verbal altercation" with a driver who was towing a trailer attached to another car before the rapper climbed on top of the trailer that crashed into a concrete divider. The 28-year-old fell and became trapped, VIBE notes.
He was pronounced dead at the scene.
"Motorists are reminded to remain patient while driving on the roadway and pedestrians are reminded not to ride on portions of a vehicle that are not designated or intended for the use of passengers," a press release from the Los Angeles Police Department says.
A police investigation is ongoing and no arrests have been made.
Anyone with information about the incident is urged to contact Valley Traffic Division Officer Reyes or Officer Martinez at 818-644-8114. Tips can also be submitted anonymously via CrimeStoppers by calling 800-222-TIPS, texting the phone number 274637 or online.