This Weekend: Here's What to Watch, Listen to & Experience
Spend time off with Kehlani, Ogi, and DJ D-Nice.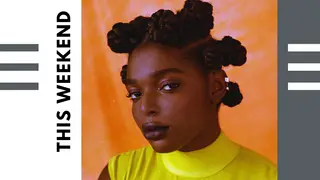 When it comes to trying something new, it's easy for many of us to lean into that good old thing, but being a true content connoisseur means being on top of what's hot, what's trending, and what's next. Luckily, this guide is everything for your music, literary, film, TV, and live experiences needs.
Each week, yours truly, Kevin L. Clark, will be your go-to advocate, spotlighting all the content cravings worth devouring.
You're now tuned into This Weekend, a weekly round-up for content culture lovers and those who love to avoid FOMO.
For Friday, May 6, this week's episode finds us with some freshly-discovered treasures for you, your family, and friends to get into + share with others. It contains a healthy dose of sonic vibes and something streaming that's a feast for the eyes.
So bon appétit to all those true savants who are purveyors of content culture out there.
---
For Listeners Only:


Two years after her sophomore effort, It Was Good Until It Wasn't, Kehlani let loose a new album (blue water road) and videos for her patiently awaiting fans to enjoy. "up at night," which follows "altar" and "everything," finds the Bay Area baddie, along with Justin Bieber, opening up her mind to us, showcasing an array of dance moves, vibrant colors, and the positive emotions that come from a newfound romance. With this song and others initially slated for a deluxe version of It Was Good Until It Wasn't, you should play this unique experience to celebrate the happy space the singer is in.
If you're still unaware of how Africa is winning the music game, look no further than Def Jam's latest signee, Stonebwoy. One of Ghana's most impressive superstars, the award-winning talent has been making hits since 2012, and now his brand new single, "Therapy," marks a fresh chapter in the U.S. as part of the Def Jam Africa team. The song is the first release from what is already heralded as a must-hear album in 2022, and after hearing the record above, be sure to do your Googles before his album drops in the middle of this year.
Rising songstress Ogi returns again to This Weekend's weekly round-up with "Bitter," a truth-filled track from her debut EP, Monologues. Produced by Grammy Award-winner No I.D. (Rihanna, Kanye West), "Bitter" is a song-as-an-outlet by an artist whose "feelings didn't fit the script," she says via press release. "These are performances of songs by a person who feels like she's performed all her life," she added, which does sound very meta. But after impressing listeners with songs like "Envy" and "I Got It," this Nigerian-born, Wisconsin-raised talent should revel in her newfound success and successful musical dreams.

Special Mentions: There is also some exceptionally dope work from the likes of A$AP Rocky feat. Rihanna ("D.M.B."), Lil Gotit feat. Ty Dolla $ign ("Night To Remember"), Guap (formerly known as GuapDad 4000 ("Black Iverson"), and Juicy J feat. Duke Deuce ("Step Back") that you cannot afford to miss.
Watch The Streams:
The Marvel Cinematic Universe's Phase 4 has been unlike anything moviegoers have seen thus far since the end of the Infinity Saga. And while we still have our favorites, such as Thor (Chris Hemsworth) and the cast of Black Panther 2, to enjoy still, Dr. Strange in the Multiverse of Madness promises to establish new heroes and concepts to enjoy as the years go on. Director Sam Raimi gets to flex his horror chops as Benedict Cumberbatch, and newcomer Xochitl Gomez as America Chavez promises this sequel will be one of the weirdest entries in the MCU.
Ziwe, the singular late-night talk and variety show, is back for a second season after nearly a year's hiatus. Comedian Ziwe Fumudoh, whose interview style is both adorable and antagonistic, is bringing a who's who list of people to eviscerate and educate. From Chet Hanks to Charlamagne Tha God to Hannibal Buress and more — Ziwe is never afraid to go there and press the hot button to ask the questions most are too uncomfortable to ask.
Netflix has gotten into the buddy cop comedy business with The Takedown, a new film starring Omar Sy (Lupin), one of France's most beloved actors, and Laurent Lafitte. A direct sequel to 2012's On the Other Side of the Tracks (De l'autre côté du périph), this project finds the duo banding together again as two cops who must dismantle a drug ring that involves some very dangerous people. This action-packed mission will take Sy and Lafitte all across France with many set pieces, making it one of the most adrenaline-filled pictures to watch this weekend.
Live at the Experience:
Hip hop legend, producer, and world-renowned DJ, D-Nice, has teamed up with Live Nation for the return of Club Quarantine Live to Los Angeles. Set to take over the Crypto.com arena on Saturday, June 25, CQ Live will serve as the pre-BET Awards event not to miss! Featuring the likes of Ne-Yo, Brandy, Nelly, Jadakiss, Lil' Mo, and more special guests than you can think of, CQ Live is excited to go back to where it all started in Los Angeles, and it is a welcome home party that is sure to continue this year and beyond.
Those who are with Citibank have already begun to purchase pre-sale since May 3, and now on Friday, May 6, general on-sale purchases can now be copped here. D-Nice, who literally started Club Quarantine across the street from the arena, has taken the community-engaging, stay-at-home sonic experience and built it into an awesome extravaganza that has been a showstopping and positive force in all of our lives.
---
Check back to BET.com and BET Digital for more weekly installments of This Weekend.
Kevin L. Clark is a screenwriter and entertainment director for BET Digital, who covers the intersection of music, film, pop culture, and social justice. Follow him on @KevitoClark.