Amber Riley Faints on Red Carpet
The Glee star "feeling fine" after dizzy spell.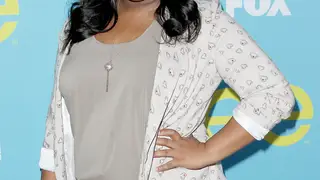 Amber Riley took a tumble on the red carpet prior to a Glee event at the TV Academy of Arts and Sciences on Tuesday, but it wasn't a wardrobe malfunction that took her to the ground, it was a bout of dizziness.
The Glee star fainted while walking the photo line, claiming she suddenly felt overwhelmed by all the flashing lights. "Still a red carpet amateur I guess. Gonna get checked out but I feel fine," the chanteuse said via Twitter. She also squashed rumors that she's dieting, diabetic or pregnant. "I love myself waaaay more than I like my career," she tweeted. "I would never ever put myself in harm's way to mirror any 'image'. Come on ppl. Get a life. I did get a great laugh this morning reading all the BS though."
Riley did take the time to thank the photographers who witnessed her fall, however, for "not taking photos of me on the ground. I truly truly appreciate it. Could have been super embarrassing."
Thankfully, Amber bounced back just moments after her fainting spell and participated as planned in the panel discussion about her hit show. 
BET.com is your #1 source for Black celebrity news, photos, exclusive videos and all the latest in the world of hip hop and R&B music.
Click here to subscribe to our newsletter. 

(Photo: Gregg DeGuire/FilmMagic)