Drake Pushes Away Fan Who Attempted To Kiss Him At Dallas Show
The Toronto rapper was captured on video trying to make his way through a crowd.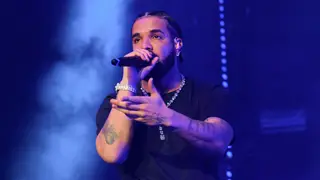 Drake defended his personal space at a recent Dallas show by handling a fan trying to kiss him.
In a video captured at one of the Toronto rapper's concerts at the American Airlines Center, he is seen making his way through the crowd with security when a woman reached her arms around his neck. Leaning in for a kiss, Drizzy dodged her and gently shoved her back into the crowd.
The woman did not seem bothered by what happened and laughed off the incident as Drake walked through the arena.
The incident follows another interaction with a fan during his It's All a Blur Tour. During his Austin show, Drake appeared surprised when a fan approached him and attempted to shake hands between songs.
"Y'all not doing security out here? You not doing security?" Drake said while walking the fan over to the edge of the stage. "Boy, you slow as f**k."