#OnTheVerge: Bandmanrill And Sha EK's 'Jiggy In Jersey' Is A Combo Of Club And Drill That Could Set The East Coast Standard
The New Jersey and Bronx natives are bringing their perspective sounds to the table to create something big.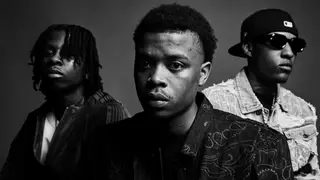 Even in 2023, New York City is still extremely regional and neighborhood-to-neighborhood regarding just about everything. It's a unique dynamic that forages alliances and creates sounds unique to certain boroughs but also often keeps artists from collaborating – for one reason or another.
And while there's a tradition of hip-hop artists working together from all over the Big Apple, it's often after they've already attained mainstream success. Now, however, new sounds are being foraged in NYC hip-hop, and a new collaboration is happening between the city and neighboring New Jersey.
Sha EK, a Bronx native largely credited with creating the borough's variation of drill, which often features more muddled instrumentals and warped base compared to its more senior Brooklyn counterpart, is teaming up with Newark's Bandmanrill for Jiggy in Jersey. This brand new album combines Bronx drill with Jersey Club and is inspired by a very successful song collab between the two from a year ago.
The "Jiggy in Jersey" single was released in June 2022 and spawned a unique sound that combines the classic stuttering hi-hats from New York drill with the booming, fast-paced 808s of Jersey Club. Together, it's one of the freshest hip-hop subgenres in New York, however, it almost never even came to be.
"A lot of people don't understand how much hate is in New York," Bandmanrill told BET during a recent joint interview with Sha EK. "One of the reasons why I rock with EK so much is because when I first started off so many people told me like, 'Don't work with EK,' and I never understood why."
For both artists to even find each other, though, wasn't nearly as difficult as their journeys to begin a music career. Both artists had brushes with death during their teenage years – each of which inspired them to do something more with their lives than they previously planned.
In regards to Sha, a gunshot wound he suffered at age 15 made him have a different outlook on life and even immediately inspired him to record some of his first songs.
"It made me want to do everything the right way, and at the time it just all stopped. Me surviving it just told me I gotta purpose to live," Sha EK said of the incident. "It was crazy, I was thinking I was gonna die. Other than that, it just made me want to go to the top. It just helped me because music was the only thing that I could do to express myself without doing nothing bad."
For Bandman, it was a bout with the coronavirus that was so bad he didn't feel he would make it through.
"I thought it was over for me because of how I was feeling. Mind you, I was bussing on TikTok at the time, so I was like, f**k it, I'm just gonna rap because someone gotta hear my story before I check out due to COVID. I was just playing with the raps and it just started doing what it did."
Now together and void of anything holding them back, Bandmanrill and Sha EK are slated to release their debut joint project with Jiggy In Jersey on Friday (August 11). Coming together with producer MCVERTT (of Lil Uzi Vert's "Just Wanna Rock" fame), the Hudson River-crossing effort will be one that could change the landscape of how both drill and club music in the tri-state area is both created and consumed. It could also span more collaborations between artists and collectives in the future.
"If you really think about it, New York and New Jersey are like 30 minutes away from each other. They have music that they dance to, we got music in Jersey that we dance to, so the younger kids or people around our age can relate to the movement just because this something that everybody grew up on," explains Bandman. "I'm pretty sure everybody that was coming up in New York, maybe it was Pop Smoke – all the little kids was probably doing a little Woo Walk dance or whatever. It's the same thing over here. For me like it's just two cultures coming together."