#OnTheVerge: Smiley Is Drake's Protégé Looking To Fully Breakout With His New EP 'I Did What I Did'
The Toronto rapper also reacts to his shoutout during The 6 God's recent interview with podcaster Bobbi Althoff.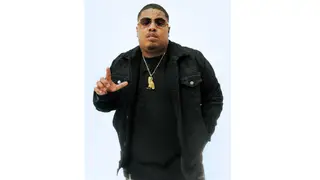 If there were ever an artist that embodied our #OnTheVerge series, it's Smiley.
And it's not because the Toronto rapper, born Alexander Eli Morand, has been consistently building his fanbase or had a jump in the sales of his music over the past few years, it's a little more complicated than that. Smiley's been on more of a rollercoaster since he began rapping during the mid-2010s. What started as a studio session, during which he wanted his friends to record to follow their hip-hop dreams, actually turned into Smiley realizing his own.
But that was short-lived and suddenly changed in 2015 after he was incarcerated for a gun-related charge. By then, a track he previously recorded in the company of his 2014-founded group Garden Gang was released while in prison. "9 On Me" would catch fellow Canadian and producer Boi-1da's attention, resulting in getting Drake put onto him.
But even while he was behind bars, the song gained traction in Canada, and by the time he was released two years later, Drizzy was publicly celebrating Smiley's music – even going so far as to say he was his favorite rapper. This eventually turned into Smiley, or Smiggs as Drake calls him, signing with the 6 God's OVO imprint. It was then that he knew he wanted to leave the street life in the past.
"I just really knew this is not the life I really wanted," Smiley told BET during a recent interview. "I don't want to be my life on pause. Before, that's all I knew. My big dogs, that street life, that's my only big dogs. Then from those times after, Drake was my big dog. He was messing with me and then we're both trying to [meet each other] and then I seen his lifestyle and the rapper lifestyle, and that just became more appealing to me."
From there, Smiley stayed focused on his music, and in 2018, released his debut project, Buy or Bye, with lyrics from the effort being incorporated into Drake's first public statement following "The Story of Adidon," Pusha T's diss track of the OVO Sound founder. In July 2021, Smiley reached a high in his career when he dropped "Over the Top," a collaboration with Drizzy, which heavily helped promo his album Buy or Bye 2 – the sequel to his debut from three years earlier.
That was the last time Smiley released a project until last week.
Taking a bit of a hiatus from music, he notes that it wasn't completely without distraction. Smiley says drug use and alcohol addiction affected him heavily but was excited to note that he's been sober for the past month. It's made him more clear-headed and able to focus on how his past demons affected his potential.
"I feel like I've drank so much and I I forget so many things in my past I don't remember," he explains. "But sometimes they just remember stuff while I'm writing and I'll go through my photo library to just go to stuff back in the days in and remember things like, 'Oh yeah, I remember what happened this day, and then I'll be able to rap about something from it."
Much of Smiley's journey is spelled out on the July 19-released I Did What I Did EP. Songs like "Nicky Nine Door" and "Benzi Boys" explain his darker days, while his admitted favorite, "Cut Her Off," discusses his more recent triumphs and the denial of those not by his side during that rollercoaster ride.
"I want people to really get to know me more," Smiley says of his latest project. "I'm not a guy that goes on Instagram Live where I talk too much about my life. So like, if I could give that up in my music, I feel like they'll be able to understand me a bit more. And also, those times were really important to me because they made me who I am today."
Perhaps the best promo for I Did What I Did came just a few days ago during Drake's viral interview with podcaster Bobbi Althoff, during which he referenced his "dog Smiggs" and how the host should hook up with her before he did his expression of his signee. It's a moment that, on its face, was hilarious and not one missed by Smiley.
"[It was] so funny cuz I seen a meme on Twitter that said, 'Smiley after he's seen this video.' It was like a screenshot of one of my interviews and my teeth are out and I was smiling [laughs]. I was laughing because that's actually how I was at [that interview]," he says. "[Drake] kills me. That was a good one that I got. Just two days before that, I went to [Toronto Chinese Restaurant] Hong Shing and I got General Tso's chicken – like holy s**t, this guy is spot on [with his impression of me]. He's never seen me order that or knew that's what I got."
But beyond the jokes and jabbing, Drake has been a major influence in Smiley's life, especially in the music business and recording. He even sees some criticism and misunderstanding of Smley's unique rapping style and personality in his journey and relayed difficulties he faced early on in his career.
"Once he saw all the hate coming towards me after [the release of 'Over the Top'], one day he messaged me like, 'Hope this isn't getting to you or anything like that, like I don't know if you're paying attention, but I'm seeing the shift changing of people's opinions like, Oh, this is actually growing on me,'" Smiley said of the conversation. "He's like, 'That's something I actually went through it myself. That's how you know you're gonna make it.' So he's given me a lot of good advice."
With the new project release, Smiley has a whole new outlook on his career and says he plans to release new merch and another EP by the end of the year. While he's already achieved stardom, particularly in Toronto and other parts of Canada, it's only a matter of time before he's eclipsed the verge.