Commentary: How Kain Colter and Student-Athletes Won at Northwestern
Labor board rules in favor of student-athletes in their effort to form a union to get paid for playing.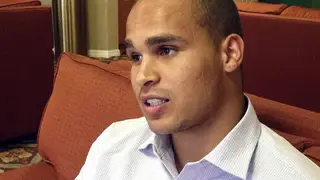 The indentured slaves won at Northwestern University. They found liberation in a federal forum Wednesday afternoon from an oppressive system of servitude that had limited student-athletes to a pauper's wages and to a scholarship that had no immediate financial worth.
Injustice was always part of their servitude, a system so unyielding that athletes felt helpless to fight it. They simply accepted that men who lorded over athletic programs were supposed to earn millions while they, the field hands, got nothing but excuses for why the wealth could not be shared.
While a federal court will ultimately decide if the NLRB ruling stands, athletes at Northwestern can celebrate a minor victory even if it doesn't last. They are the first wave in a struggle for workers' rights.
Men who hold most of the dollar bills don't give back a larger share of it than they should. None of them got rich, after all, by being freehanded with their loot. But we can remember the nakedness of their greed when we look at the Curt Flood case in 1970.
Although Flood lost his effort to strike down the "reserve clause" in Major League Baseball, he cleared a path to what destroyed the clause, which was a flawed doctrine that bound a ballplayer to one franchise for as long as the team wanted him.
College sports have been just as unbending. As athletic departments banked more and more money, built flashier, larger and gaudier training facilities, their athletes stood a short step from the poverty line. Indentured slaves were led to believe a full scholarship was fair payment; they would get their reward upon graduation.
So what has ever been good about servitude? 
America has let dollars and tradition slow efforts to usher in change on too many fronts. In sports, change has always moved at a tortoise's pace. Just look at the decades-long effort to get the NFL franchise in Washington, D.C., to change its racist name. 
For about that long, critics of intercollegiate sports have decried how rich colleges, head coaches and the NCAA have grown while nothing has made the plight of student-athletes much better today than it was 10,000 yesterdays ago.
The limits on student-athletes are as burdensome as ever; their bank accounts are as empty as ever. They can't pay for a dinner with book money. Even worse, colleges limit the kind of jobs an athlete can have; they limit how he can use his image; and they limit what perks he can accept.
At the same time, the athlete must put in as many as 50 hours in week on training, and even during the off-season, he must drill and lift weights under the eyes of team captains.
"It cannot be said that the employer's scholarship players are primarily students," the NLRB decision for Northwestern athletes read.
Those words put to end the fiction: An athlete at an NCAA sports factory is no more a student than a butcher is a surgeon.
Yet before indentured slaves get too giddy, they might want to remember that the NCAA has billions behind it, and the organization that enslaved these men isn't going to free student-athletes simply because a labor board, taking note of these inherent contradictions, issued what amounts to a well-reasoned proclamation.
They might need an uncivil war in federal court to emancipate them permanently.
The opinions expressed here do not necessarily reflect those of BET Networks.
BET Sports News -- Get the latest news and information about African-Americans in sports including weekly recaps, celebrity news and photos of your favorite Black athletes. Click here to subscribe to our newsletter.
 (Photo: AP Photo/Tamara Lush)