Chrissy Teigen and John Legend Welcome Baby No. 4 Via Surrogate
The couple shared that they have always wanted four children and met with a surrogate after their pregnancy loss in 2020.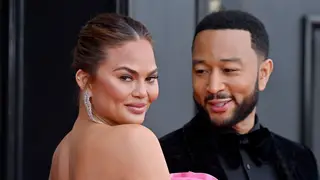 Model Chrissy Teigen and singer John Legend have announced that they have welcomed their fourth child, a son, via surrogate.
"All our wishes and dreams aligned," Teigen said about meeting Alexandra. "I wanted to be her friend, I wanted our children to play, I wanted dinner together, I wanted to lay my head on her belly and be able to feel the hiccups and kicks. I wanted them to be in our lives."
In a lengthy note shared in a photo carousel, Teigen wrote that she and her husband met with a surrogate named Alexandra and they connected. She shared that the first embryo that they transferred did not survive. She wrote that Alexandra underwent surgeries to improve the potential for pregnancy.
At the same time, Teigen was also pregnant with their youngest daughter, Esti. She shared that Alexandra found out she was pregnant toward the end of Teigen's pregnancy.
Son Wren Alexander Stephens was born on Monday, June 19.
"We want to say thank you for this incredible gift you have given us, Alexandra," she said, referencing their "most incredible, loving, compassionate surrogate," whom Teigen got the chance to be pregnant alongside for a time. "And we are so happy to tell the world he is here, with a name forever connected to you, Wren Alexander Stephens."
"Our hearts, and our home, are officially full. And to our Jack, we know both their angel kisses are from you."
Jack was the name of the son they lost in 2020.
In announcing the birth of their second daughter, Teigen wrote, "She's here! Esti Maxine Stephens - the house is bustling and our family could not be happier," she added. "Daddy sheds nightly tears of joy seeing Luna and Miles so full of love, and I am learning you still need diapers with a c-section!? We are in bliss," she continued. "Thank you for all the love and well wishes - we feel it all! X."
The couple are also parents to Miles Theodore, 4½, and big sister Luna Simone, 6½.