Black FedEx Driver Says He Was Doing His Job When White Men Shot At Him
D'Monterrio Gibson's lawyer plans to seek hate crime charges in a case similar to Ahmaud Arbery.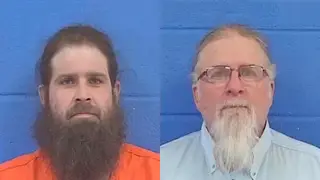 A Black FedEx driver in Mississippi was doing his job on Jan. 24 when two white men in a pickup truck allegedly chased and fired a gun at him. He survived the assault, and the suspects were arrested. But the attorney representing the driver, D'Monterrio Gibson, is now calling for an investigation by outside law enforcement agencies and possible hate crime charges.
In an interview with the Mississippi Free Press, Attorney Carlos Moore, of The Cochran Firm, said that he plans to ask the FBI and Mississippi Bureau of Investigations to get involved, as well as asking the U.S. Department of Justice "to prosecute this as a hate crime."

"They can't take the law into their own hands. We're really just tired of stuff like this happening, always looking suspicious to a certain type of people," Gibson told the Free Press.

Moore compared his client's case to the chase and fatal shooting of Ahmaud Arbery in Georgia by three white men who wrongly suspected him of theft in their neighborhood. In Gibson's case, the suspects are said to have suspected him of suspicious behavior.
"It's just sad that it happens," Moore said. "It seems to be a copycat duo copying off the Ahmaud Arbery case… They saw this man was a Black man, and they just hauled off and shot at him multiple times, at least the younger son did. The older guy tried to entrap him. They were working concertedly to try to entrap and kill this man. I mean, they shot at him several times. It's amazing that he survived."
Gibson, 24, told the newspaper that he was making deliveries in Brookhaven, Miss., last month when a white pickup truck drove toward him, blowing the horn, from a nearby residence. Gibson, at the time,  was driving a Hertz rental with Hertz markings on the side but wearing his FedEx uniform.
Gibson swerved to avoid the truck and stepped on the gas to quickly leave the neighborhood. As he drove away, a second man stood in the middle of the street pointing a gun, signaling for Gibson to stop. He swerved to avoid the man who started firing his weapon into the van.
As Gibson drove away, he called his manager to report what was happening, as the pickup truck followed him onto the interstate. About 10 minutes on the highway, the pickup was no longing tailing him. While on the way back to his FedEx station, Gibson called his dispatcher, who told him that he had received a call about a suspicious person at the address where Gibson was making his delivery.
After returning to the station, they discovered bullet holes in the delivery van and inside packages. The next day, on Jan. 25, Gibson and one of his managers went to the Brookhaven Police Department to file a report.
Gibson said a white officer asked him if he had been "doing anything to make them think (he) looked suspicious." Feeling disrespected, Gibson recalled telling the officer that he was only doing his job.
After an investigation, the police identified the driver as Gregory Case and the man in the road as his son, Brandon Case. They surrendered to authorities on Feb. 1. The father was charged with conspiracy and the son with aggravated assault.