OPINION: Why The Ahmaud Arbery Case Verdict Was Clearly The Right One
The 25-year-old Georgia man should never have been chased and killed. That is why the jury's decision was a very simple one.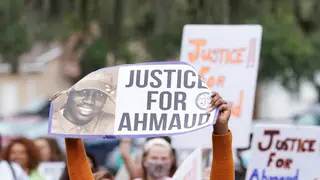 The jury has spoken. Guilty. At its core, the murder trial of Greg and Travis McMichael and William "Roddie" Bryan in the shooting death of Ahmaud Arbery, really was not a difficult case.
Three men, two of them armed, riding in pickup trucks chased and cornered an unarmed man and ordered him to stop. Almost certainly bewildered and frightened for his life, he did what most of us would do: he ignored them. But they were determined, enough so to brandish a shotgun to force him to submit. What happened next was tragic: this young man resisted his assailants and ended up dead.
This then-unarmed young victim was not carrying stolen property, or covered in blood, or in any way provoking a confrontation. And because nothing he did would cause a rational person to grab a gun, hop in a pickup truck and chase him down in an effort to seize him, the decision to do so was itself outrageous and unlawful. That unlawful conduct is what is treated under the law as "first aggression," which results in forfeiting any claim of self-defense if the victim – unlike the first aggressor -reacts rationally to resist that aggression.  The prosecution was well prepared and unlike some of the antics witnessed during the Kyle Rittenhouse trial, the judge appeared to value courtroom decorum and the appearance of being impartial.
Of course, there is one thing that made the case complicated—race.  The more people try to pretend to be colorblind, the more likely people will miss why this tragedy happened in the first place.
The defense tried to highlight race at every turn by challenging potential jurors based on race, objecting to the presence of Black pastors and comparing them to Ku Klux Klan members, characterizing Arbery's presence in the neighborhood as an intruder, and describing him as having "long dirty toenails."

During the closing argument, prosecutor Linda Dunikoski asked the jury to consider what Arbery may have been feeling and thinking when he was chased for five minutes by the armed white men who were shouting at him and demanding that he yield to them.  The twelve-person jury (with only one Black juror) was asked to have empathy.
It should not be difficult for anyone to imagine what Mr. Arbery was thinking and feeling, particularly a Black person.  What he was likely feeling was a terror that we still ponder when traveling back roads and going into unfamiliar places.  The dangers of living while black has been captured by stories of Blacks being confronted for just trying to do ordinary things like studying, selling water, having a barbecue, or going bird watching.  The very act of living while Black seems to always carry the potential for a confrontation, or worse, a tragedy.
When I think of the final moments of Arbery, I cannot help but remember the violent racist murder of James Byrd, Jr. , one of my husband's relatives.  Both men were confronted by armed white men in a pickup truck with ill motives.  Byrd recognized one of the occupants and trusted the men would give him a ride home.  Arbery tried to escape from the men who chased him and refused their commands.  Both men wound up dead.
The defense tried to characterize Arbery's actions to run away and not scream for help as illogical, but as a Black person who was just confronted for being unwelcomed in a neighborhood, what would crying for help do?  Logically, Arbery should have never been chased and confronted by three white men in a pickup truck waving guns.  But the McMichaels and Bryan decided that Arbery was somewhere he had no right to be.
For decades, the idea of putting Black men in their "place" has permeated the dark history of this country.  During slavery, Jim Crow, and the Civil Rights Movement there is horror story after horror story of white men deciding that some Black man didn't know his place and needed to be taught a lesson.
Ironically, to escape responsibility, the defendants relied on an 1863 law that is now repealed.  Historically, the law was used to justify lynching Black Americans and round up escaped slaves.  Despite Arbery being outnumbered and outgunned –the defendants claimed that they were threatened and had no choice but to defend their lives.  Fortunately, the logical argument that the one who starts the fight forfeits the right to self-defense, resonated with the jury.  

RELATED: Jury Convicts Three Georgia Defendants In Shooting Death Of Ahmaud Arbery
Travis McMichael testified that he thought of his son before he shot and killed Arbery.  Sadly, he failed to realize that Arbery was also someone's son.  Arbery was a son that was never given the benefit of the doubt.  Arbery responded the way most would have responded, incredulously and defiantly.
In a land where we are always emphasizing freedom, Arbery had the audacity to believe that the same freedom applied to him as well.  Fortunately, by returning a guilty verdict on majority of the total 27 counts, the jury has sent the defendants exactly where they belong: to prison.
Njeri Mathis Rutledge is a legal expert, law professor, speaker, writer and former prosecutor.  She serves as an Ambassador with The OpEd Project and a tenured professor at South Texas College of Law Houston.  Follow her on Twitter @njerirutledge.