Love Is Blind's Couple Lauren and Cameron Celebrate 5th Anniversary With Vow Renewal
They met in 2018 on the popular Netflix reality show.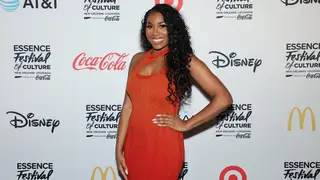 "Love is Blind" couple Lauren and Cameron Hamilton are celebrating five years of marriage.
Their love story began on Netflix's hit reality show in 2018. The couple first connected in isolated pods, bonding before ever meeting face-to-face. Despite initial concerns about their racial and cultural differences, they built a connection.
Eventually, they got engaged and married in the season finale. The dynamic duo continues to share their love story and Lauren took to Instagram to share a heartfelt message to her hubby. "5 years into forever! I can't believe we've been married half a decade… somehow each day I've come to love you a little more! You are such a gift and I'm so grateful for you @cameronreidhamilton. Thank you for being you and loving me for me. I love you deep ❤," the caption read.
In an interview with People, she said, "Every day feels like I fall more and more in love with Cam, which I didn't even know was possible," she tells PEOPLE. "So I'm just happy to be where we are now and for our growth and proud of us."
Cameron also shared, "Five years, it is both a long time and not very much time. Simultaneously, it's really a matter of perspective. I mean, it's gone by really quickly, but then there have been times where marriage takes a lot of work."  He continued, "You have to put in a lot to get to a good place, which I feel great about where we are. So, I'm really thankful for those times where it was challenging because it ultimately leads to a stronger marriage."
The fan-favorite couple celebrated their marital milestone early, renewing their vows the first weekend of November at the Bellagio Hotel and Casino. The location was easy for Lauren to choose, as she wanted to see Usher in concert and suggested they jet off to Las Vegas for the celebration, according to People.
Lauren and Cameron's vow renewal, featured in exclusive photos by People, was an intimate celebration with only their closest family and friends in attendance. The couple dressed elegantly, with Lauren in a white wedding gown and Cameron in a classic black suit, capturing the special moment on the rooftop of the Bellagio.
They reflected on cherished memories like getting their dog Sparx, blending families during their first Thanksgiving together and launching their Quarantine Diaries series on their Hanging with the Hamiltons YouTube channel.
Cheers to another five years!