Kourtney Kardashian Shares Photos Of Intimate Wedding To Travis Barker
The PDA loving couple got engaged in October 2021.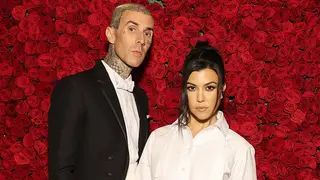 Kourtney Kardashian and Travis Barker finally made it official. The couple got married on Sunday, May 15 in Santa Barbara, as reported by TMZ, People, and Entertainment Tonight. Now, the two have released a glimpse into their private ceremony.
Taking to her Instagram, The Kardashians star posted eight photos, which included the pair on the steps where they exchanged their vows and kissing in a lowrider convertible before driving off as newlyweds.
Kardashian, 43, is seen wearing a short white dress with a veil while Barker, 46, rocked an all-black tuxedo, matching their black Cadillac and its white-wall tires.
The couple posed for a pic with his parents before riding off with a "Just Married" sign strapped to the back of the vehicle along with many empty cans trailing behind them in traditional fashion.
The reality star and musician were officially married on Sunday, May 15 as word of the nuptials was leaked once their legal paperwork was filed. Last month, they did a practice run in Las Vegas when they exchanged vows in front of an Elvis impersonator at a Sin City wedding chapel, however they didn't have a wedding license.
According to TMZ, the couple is planning a more elaborate wedding ceremony in Italy, which will likely feature all of the opulent bells and whistles that come with a traditional Kardashian union.
Click here for a look at the photos.