Lizzo Is Currently Searching For Size-Inclusive Baddies For An Upcoming Project, Here's What We Know!
She is casting full-figured models and dancers.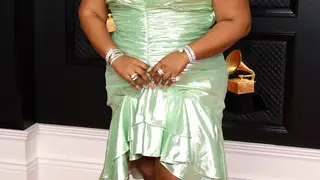 Calling all size-inclusive baddies, Lizzo is looking for you!
The Grammy-Award winning songstress is putting together a dream team of full-figured women for her new Amazon show. 
In a new Instagram video, she says, "Where are all the big girls? That's what I wanted to know, so me and Amazon are going to find out. I'm developing an unscripted show with Amazon to find my next crew of big girl dancers and models… I'm looking for you!" 
The body-positive advocate has always been transparent about the importance of self-love, and now she wants to help women overcome their insecurities and love themselves unconditionally. 
"Are you a full figured dancer or model? Have you felt underrepresented and under appreciated? THEN I'M LOOKIN FOR YOU," read her Instagram caption. 
The Amazon project is currently in development and will follow Lizzo as she searches for size-inclusive women to perform with her. Ladies may apply at  BigGrrrls.com.
Cudos to Lizzo for continuing to advocate for women!