Gabrielle Union Designs New T-Shirt for Planned Parenthood
The Being Mary Jane star wants you to vote this November.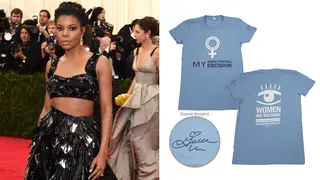 She is a staunch advocate for women's health and reproductive justice. And to show her support, Union designed a limited edition T-shirt for Planned Parenthood Action Fund's Women Are Watching campaign.
Union's shirt reads: "My Birth Control. My Decision." And the back reads: "Women Are Watching."
This goal of this initiative, which launched in 2012, is to galvanize women this election season, to educate female voters where politicians stand on women's health issues and to encourage women to get to the polls.
Union isn't new to women's health issues. Over the years, she has spoken out about breast cancer and sexual assault. And it's clear: She is fed up with what's happening in Washington. 
"It's hard to believe we're still living in a time when some politicians believe they should make decisions for women about birth control and basic health care," Union said in a Planned Parenthood press release. She added, "We have to vote like our access to birth control and basic health care is on the line this year — because it is."
It's no secret that women's access to reproductive care has been under attack from the Hobby Lobby Supreme Court Case to states passing even stricter abortion laws.
Planned Parenthood's mode of attack is simple. Go vote and have your voice heard.
"We have less than 40 days until Election Day, and we're fighting back. Every woman in this country deserves elected leaders that will protect access to birth control, preventive health services provided by Planned Parenthood, and safe and legal abortion," says Dawn Laguens, executive vice president, Planned Parenthood Action Fund.
She adds, "Most important, we need more leaders to trust women to make their own health care decisions."
And it's important to note that the war being waged on women isn't simply a white women's issue. African-American women have a serious stake in how this year's election turns out. We are disproportionately impacted by the HIV/AIDS and STD epidemic; we have higher abortion rates, which speak to the need for affordable birth control; and we are more likely to be disconnected from quality and stable health care.
So with that being said: How well are you really watching?
Learn more about registering to vote here.
BET Health News - We go beyond the music and entertainment world to bring you important medical information and health-related tips of special relevance to Blacks in the U.S. and around the world. Click here to subscribe to our newsletter.
(Photos from left: Larry Busacca/Getty Images, Planned Parenthood)