Black Teenager In Oregon Fatally Shot For Playing Music
Aidan Ellison was only 19 years old.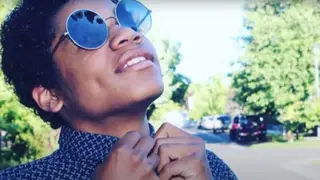 An Oregon community is mourning the loss of Aidan Ellison. The teen was fatally shot by a white man who objected to his music.
According to KTLV, Ellison, 19, and Robert Keegan 47, were staying at the Stratford Inn outside of Ashland, Oregon. Ellison was allegedly playing music in the parking lot around 4 a.m. when Keegan confronted him. After an argument reportedly ensued, Keegan fatally shot the teen in the chest. 
Ellison was pronounced dead on the scene. 
Tighe O'Meara, Ashland Police chief said in a statement, "The victim had apparently been playing some music loudly in the parking lot and this upset the suspect, which caused the suspect to go down and engage him in an argument."
O'Meara also added, "This sort of thing certainly doesn't happen very often in Ashland at all, people getting shot, people getting murdered. I would encourage anybody that has a complaint about another's behavior to let us handle it and not get into arguments that unnecessarily resolve in violence, there is no reason that this should have happened."
Fox 26 reports Robert Keegan, who was staying in the motel with his son after being displaced by wildfires, was charged with second-degree murder, first-degree manslaughter, unlawful possession of a firearm, and reckless endangering. He pleaded not guilty. 
According to NewsOne, local Black Lives Matter activists are arguing that the media is trying to paint Keegan as a sympathetic character due to his displacement and that the ends don't justify the means.
"The incident where Aidan was shot after an argument listening to his music was really about him not submitting to that man's perceived authority," Precious Edmonds, a spokesperson for the Southern Oregon Black Leaders, Activists, and Community Coalition (SOBLACC) told Oregon Live.
Aiden Ellison supporters launched a GoFundMe fundraiser to help his mother in the aftermath of her son's tragic death.
See the news clip on Aidan Ellison below: