Jasmine Guy Says Producers Mistreated Lisa Bonet On 'A Different World' Set
Guy says Bonet was often talked down to on set and had to hire security.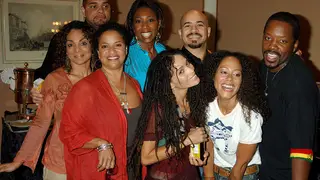 Jasmine Guy and Kadeem Hardison are giving fans of their hit show A Different World, an insider's perspective of how co-star, Lisa Bonet, was treated on set.
The TV couple, who played Whitley Gilbert and Dwayne Wayne of the 90s sitcom, stopped by The Breakfast Club about the impact of the popular show.
Guy said that after Season 1 of the show, she attempted to put in a two-weeks notice to walk away from the series
"After that first season, it was wack and I didn't like how they were treating Lisa Bonet," Guy said. "You disrespect her in front of an audience, in front of me, you disrespecting me too."
To which, Charlamagne Tha God asked how Bonet was disrespected.
Hardison and Guy shared that Bonet was often talked down to.
"I didn't interfere on set but I was like 'oh no. you not treating her like that,' Guy said pointing to her head, alluding to the fact that she kept what was going on in her memory. "She had to hire security."
Furthering the conversation, Charlamagne asked if the mistreatment was a result of Bonet ultimately quitting the show. Hardison and Guy disagreed and shared that Bonet being pregnant was possibly a more accurate reason.
"[They] didn't want a Black girl pregnant in college," Hardison said. "I thought it would've been a great tool and something to inspire, because it was all inspiring, so why not?"
Guy added that several rumors circulated on why or why not the pregnancy storyline was not included in the coming seasons, both for Bonet's character being pregnant and against.
Elsewhere in the interview, Guy said that although A Different World ranked in the top 5 ratings during the majority if its six-year run, she and her castmates never truly got the respect that they deserved from NBC, and also felt jaded when their show was moved to a different time slot to compete with the show Martin which was on Fox at the time.
"I definitely took that personally. You ain't got but two Black shows… so you put us at the same time against each other?" Guy said about the show starring Martin Lawrence and Tisha Campbell. "And what had we done to deserve this kind of disservice? You know, we're not competing with Martin. They come on at 8:30, we come on at 8 — why did you move us? That was a detriment."
Watch the full The Breakfast Club interview below: