Is Rick Ross Back With Reebok?
Rozay holds meeting with sneaker brand's CEO.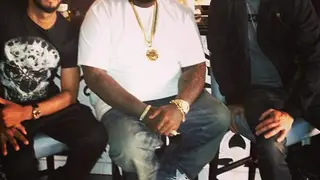 Rick Ross might not be totally done with Reebok. The company severed ties with him last month, but a new photo points to a potential reconciliation.
Swizz Beatz posted a flick of him and Rozay meeting with Reebok's CEO, under the caption "Positive Energy !!!!! ROSS X SWIZZ X REEBOK CEO!!!!!! today's meeting."
Since Swizzy didn't elaborate, it's assumed that the meeting means Ross (who was rocking a pair of Reebok Questions in the snapshot) will soon be back in the sneaker brand's good graces.
If so, the timing couldn't be more awkward.
Reebok's CEO lashed out at the MMG rapper's inner circle recently, calling Ross a "good guy," who has "stupid advisors."
Meanwhile, Meek Mill put his foot in the controversy by slamming Reebok in an interview. "F--- Reebok. We wear Puma's," he proclaimed. "That's what we do. We wear Pumas. As far as the Rick Ross situation with Reebok, I just don't approve of none of that. I don't approve of no companies trying to dip and dab in our culture and then when you make a mistake they dip out on you. So, it's like they still making money off of our brand."
BET.com is your #1 source for Black celebrity news, photos, exclusive videos and all the latest in the world of hip hop and R&B music.
(Photo: Instagram via therealswizzz)