Tiny Gives Us A Look At What Goes Down In The Bedroom With T.I.
"We like to keep it hood and sexy."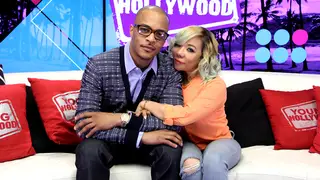 In the time since, however, the on-again, off-again couple seem to have resolved their issues – so much so that Tiny is now offering fans an inside look at what exactly goes down in their bedroom. 
Kicking things off in New York for The Great Xscape Tour, the singer momentarily paused her set to break out some sensual moves. Tiny prefaced the dance session with a hilarious admittance to her bedroom behavior. "Y'all know, I'm dealing with a king, right?" she began her disclaimer. "So, in the bedroom we like to keep it hood and sexy." 
The Xscape songwriter then went into a full on twerk session as Cardi B's chart-topping "No Limit" played overhead. The crowd was thoroughly impressed as they cheered her on.
The epic reunion tour also features special guests Monica, Tamar Braxton and Tiny's daughter, rising artist Zonnique. The R&B extravaganza runs through the holidays, with breaks during Christmas and New Year's Eve.
Check out Tiny's sensual moves below.