Kenya Moore Says She Went On A Date With Kanye West And It Was A 'Disaster'
'The Real Housewives of Atlanta' star dished to Wendy Williams.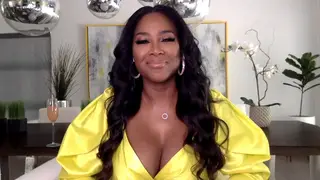 The Real Housewives of Atlanta star did not say when the date with the former presidential candidate occurred but she did reveal it was a disaster on The Wendy Williams Show.
"I did go out with Kanye once, that was a disaster," the 49-year-old said.
"Somehow, we ended up going to his house and there was, like, some very explicit things on TV… I was lost, he left me alone, I was just there for like five minutes, wandering around his house. When I followed the noises, he was watching something on TV that he probably shouldn't have been."
She continued, "So, that was my exit! As much as I love him, it was just the craziest thing."
The thirteenth season of The Real Housewives of Atlanta kicked off last night (December 6). As Moore also told Wendy Williams, she is attempting to repair her relationship with her estranged husband, which appears to be part of her storyline for this season.
Kenya Moore and Marc Daly wed in June 2017 and are parents to their one-year-old daughter Brooklyn Doris Daly. The ups and downs of their relationship played on the last season of the popular reality series. They were currently in the process of a divorce but Moore told Williams, "We were headed down the road of divorce and you'll have to watch the show where we end up, but with Mark, I'll always have love for him because he gave me the most beautiful gift that anyone could have given me in my entire life and that's Brooklyn."
Watch the Wendy Williams interview below: