Kodak Black Reportedly Dropped from Future's Tour Amid Legal Woes
More bad news for the rapper.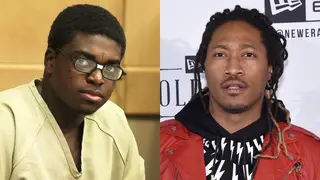 Unfortunately, there is even more disappointing news for Kodak Black and his fans, as the rapper's streak of bad luck continues.

As reported, while the rapper's hopeful lawyers are anticipating he will be out of prison soon, it appears as though his recent string of legal woes have resulted in him losing out on business opportunities. Last night (April 28) Future posted an updated flyer for his forthcoming Nobody Safe tour, and as it turns out, Kodak Black's name was nowhere to be found.
Black was originally slated to appear on the tour alongside Migos and Tory Lanez, with the new flyer replacing the 19-year-old with A$AP Ferg.
While there has not been an official statement issued yet explaining the rapper's absence from the tour, it's a safe bet that such a change in events is directly related to Black's recent string of legal issues.
Black's next court date is slated for May 4--the rapper previously was found guilty of violating the terms of his house arrest and could see eight years in prison--but in the meantime, it looks like promoters are choosing to play it safe and aren't betting on his immediate release.
Hopefully, Kodak Black's luck turns around soon.
Take a look at the updated flyer for Future's Nobody Safe tour below.